The Asian Development Bank (ADB) has revised its growth projections for Uzbekistan for the years 2023 and 2024, citing stronger-than-expected economic performance in the first half of 2023. This robust growth has been attributed to increased investment and significant expansion in the industrial sector.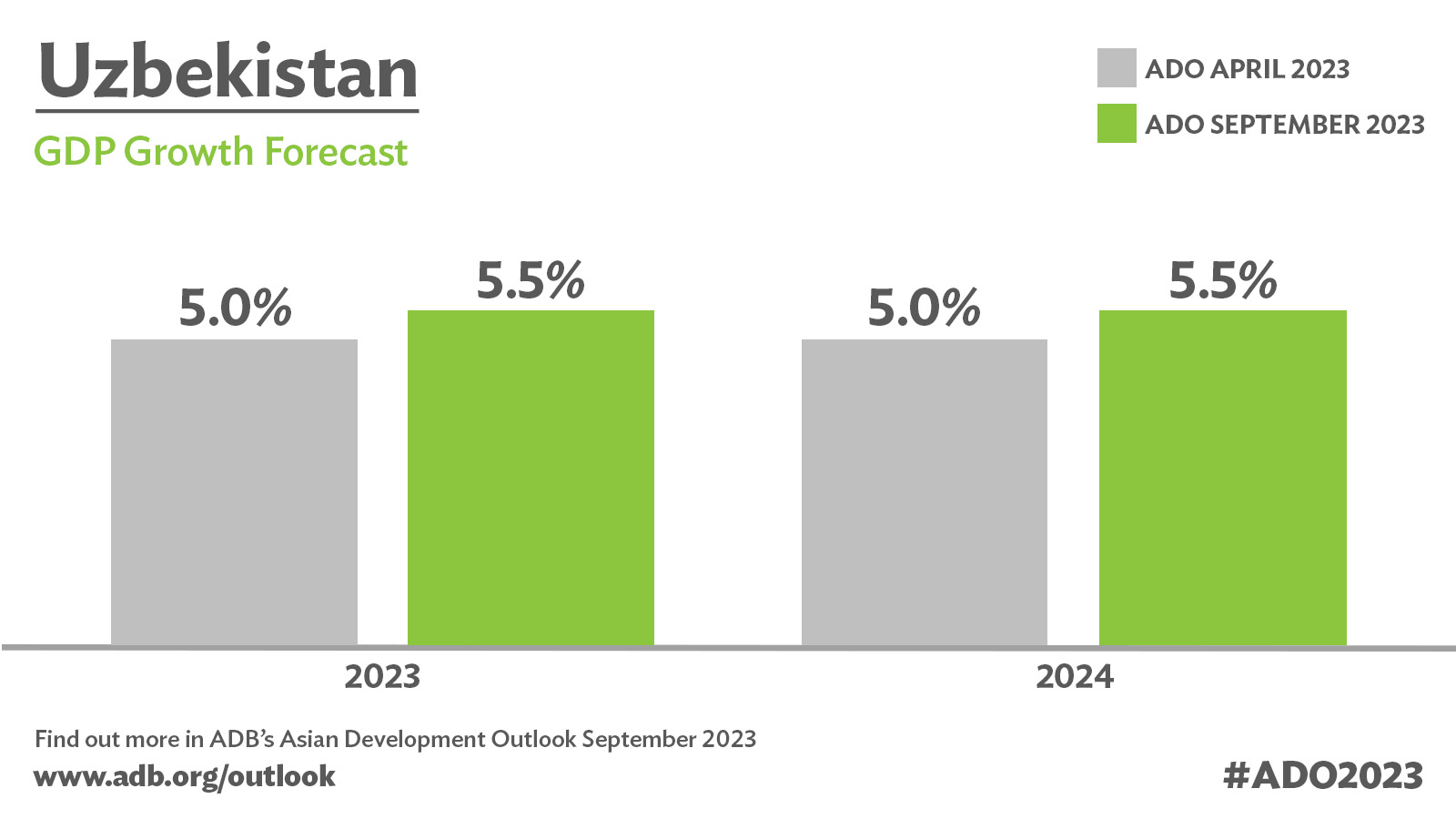 ADB's flagship economic publication, now forecasts a GDP growth rate of 5.5% for Uzbekistan in 2023. This represents a slight upward revision from the earlier projection of 5% made in April. The industrial sector in Uzbekistan exceeded expectations in the first half of the year, with growth accelerating from 4.6% to 5.6%. This growth was driven by notable gains in manufacturing and mining. Additionally, the growth forecast for 2024 has also been raised to 5.5%, up from the earlier forecast of 5% in April.
ADB Country Director for Uzbekistan, Kanokpan Lao-Araya, remarked,
"Despite the risks posed by food and energy inflation coupled with a decrease in remittance inflows, GDP growth is expected to remain strong in 2023. Steady growth in industry, agriculture, and capital investment is anticipated to yield higher growth in the rest of 2023 and 2024."
However, the report also anticipates a slowdown in consumption growth due to persistent high inflation, which is expected to reduce real household income and demand, despite wage and pension increases. To mitigate the impact of rising food prices, tax and customs duty exemptions on essential foodstuffs will continue until the end of 2023. The decrease in inward money transfers, attributed to a decline in Uzbek seasonal migrant workers in Russia, has resulted in a wider current account deficit.
While Uzbekistan's sustained growth is aligned with its goal of becoming an upper-middle-income country by 2030, ADB emphasizes the need to expedite the transition to a green economy. The expansion of industrial activities, especially in mining and quarrying, should be accompanied by more robust climate and green transition measures, particularly by state-owned enterprises (SOEs). ADB plans to engage in policy discussions with Uzbekistan to promote the adoption of environmental, social, and governance principles in the corporate management of major SOEs and banks.
Uzbekistan joined ADB in 1995, and since then, ADB has provided loans, grants, and technical assistance totaling $11bn to the country. ADB remains dedicated to fostering prosperity, inclusivity, resilience, and sustainability in Asia and the Pacific, while continuing efforts to eradicate extreme poverty. Established in 1966, ADB boasts ownership by 68 members, with 49 hailing from the region.

Earlier Daryo reported that recent Asian Development Bank (ADB) report has pointed out the significant emergence of tech startups in Uzbekistan lately. Nevertheless, most of these startups are still in their infancy, experimenting with fresh ideas and entering the market cautiously.

Follow Daryo's official Instagram and Twitter pages to keep current on world news.