Uzbekistan's economic trajectory is on an upward curve, as the nation's gross domestic product (GDP) volume reached a striking UZS 469,619bn ($38.7mn) in the first half of 2023. This impressive 5.6% growth rate surpassed initial predictions by the Ministry of Economy and Finance, which had forecasted a growth of 5.2% at the beginning of the year.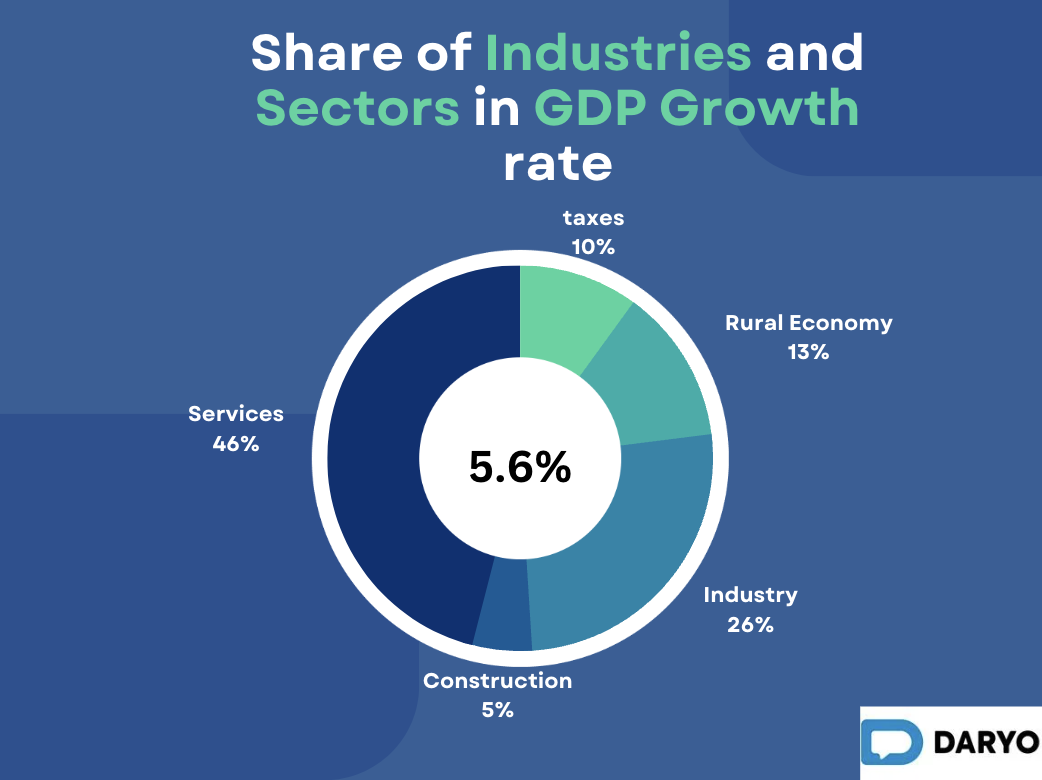 Service Sector Drives the Economy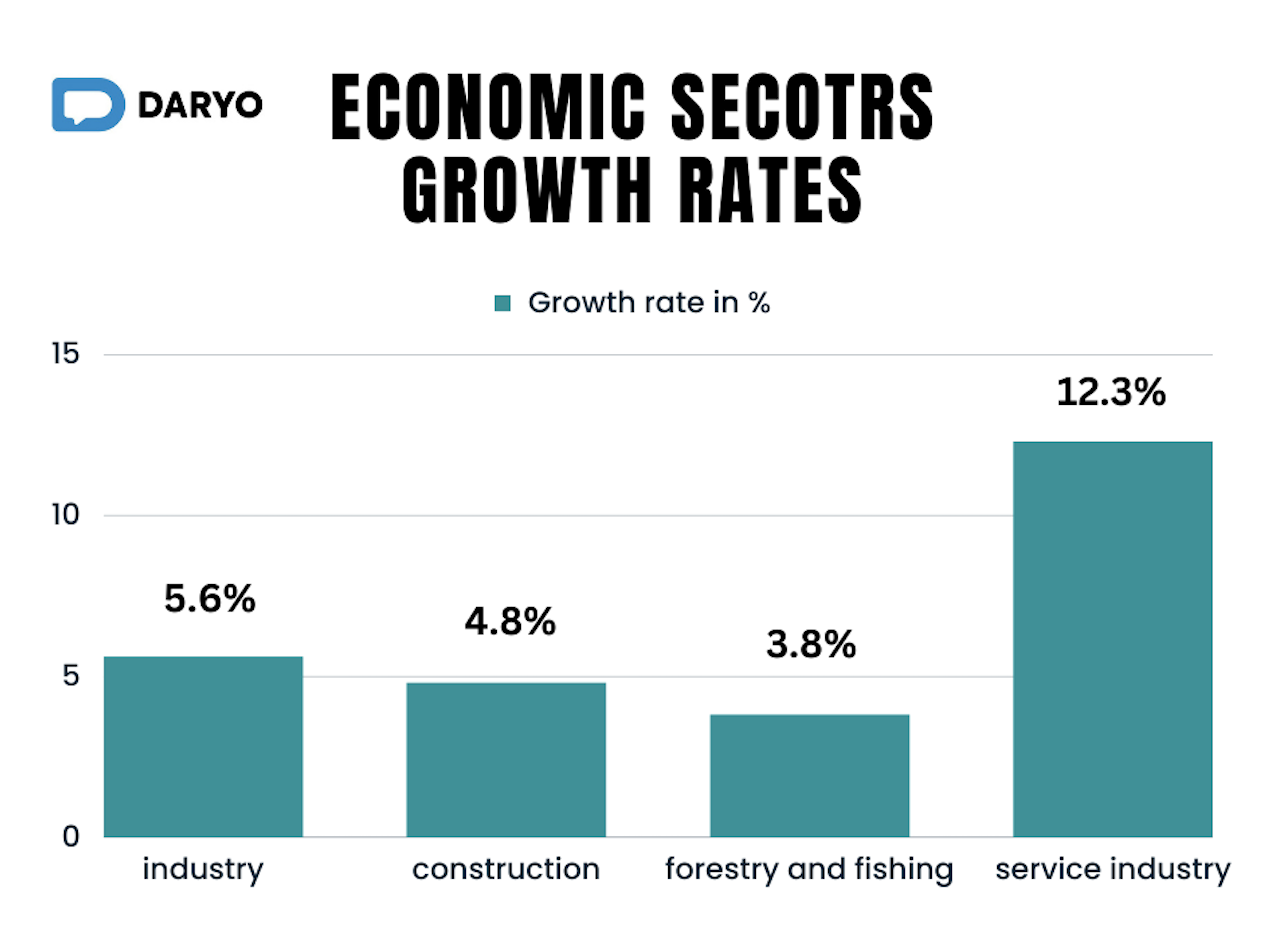 The backbone of this positive economic momentum is the service sector. Demonstrating a robust growth rate of 6.4% compared to the same period last year with a total of 12.3%, the service sector contributed significantly, accounting for a 2.6% rise in employment. Meanwhile, other sectors weren't left behind:
Industry saw an increase of 5.6%, contributing 1.4% to the GDP.
Construction activities expanded by 4.8%, which translates to a 0.3 fixed point contribution to the growth.
Agriculture recorded a growth of 3.8%, pitching in 0.7 fixed points to the overall rise.
Sector-wise Contribution to GDP Growth

In a bid to ensure a consistent electricity supply to the economic sectors and the general population, electricity production climbed by 4.4%, hitting 38.4 bn kWh. This increment facilitated a 10% growth in electricity allotted to the economy, while imports surged by 6.1%. On the other hand, natural gas production witnessed a dip, reducing by 9.6%. This decline triggered a staggering increase in natural gas imports, which rose by 7.2% compared to the previous year.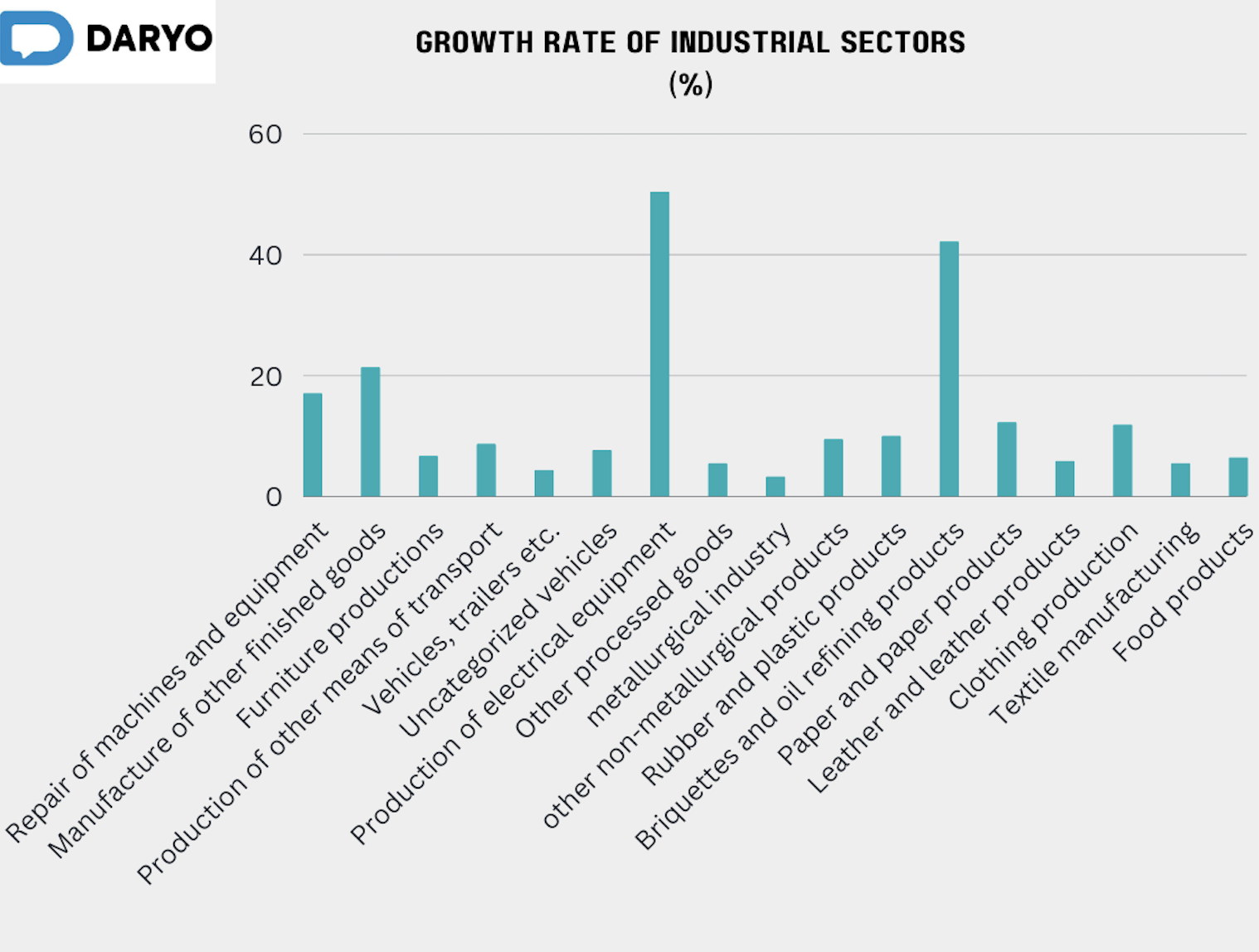 The industrial sector displayed commendable progress with a 5.6% growth, amassing UZS 293.6 trillion ($24.23 bn). Key contributors within the sector were metallurgy, showcasing a growth of 3.2%, coal and oil refining products with a significant 42.1% increase, electrical equipment soaring by 50.4%, and food products which grew by 6.4%.
Consumer Price Dynamics
Examining the consumer price index (CPI) for the first half of 2023, a 3.5% rate was observed, showing a decrease from 4.4% in 2021 and 6.5% in 2022. Within this framework:
Food products witnessed a 4.1% price rise.
Non-food items experienced an increment of 3.1%. Noteworthy hikes were seen in medicines (6.5%), household cleaning products (5.4%), cement (4.6%), and essential household goods and electrical equipment (3.5%).
Intriguingly, while methane and propane prices rose by 3.2% and 3% respectively, gasoline prices bucked the trend, decreasing by 3%.
Legal Entities Register Growth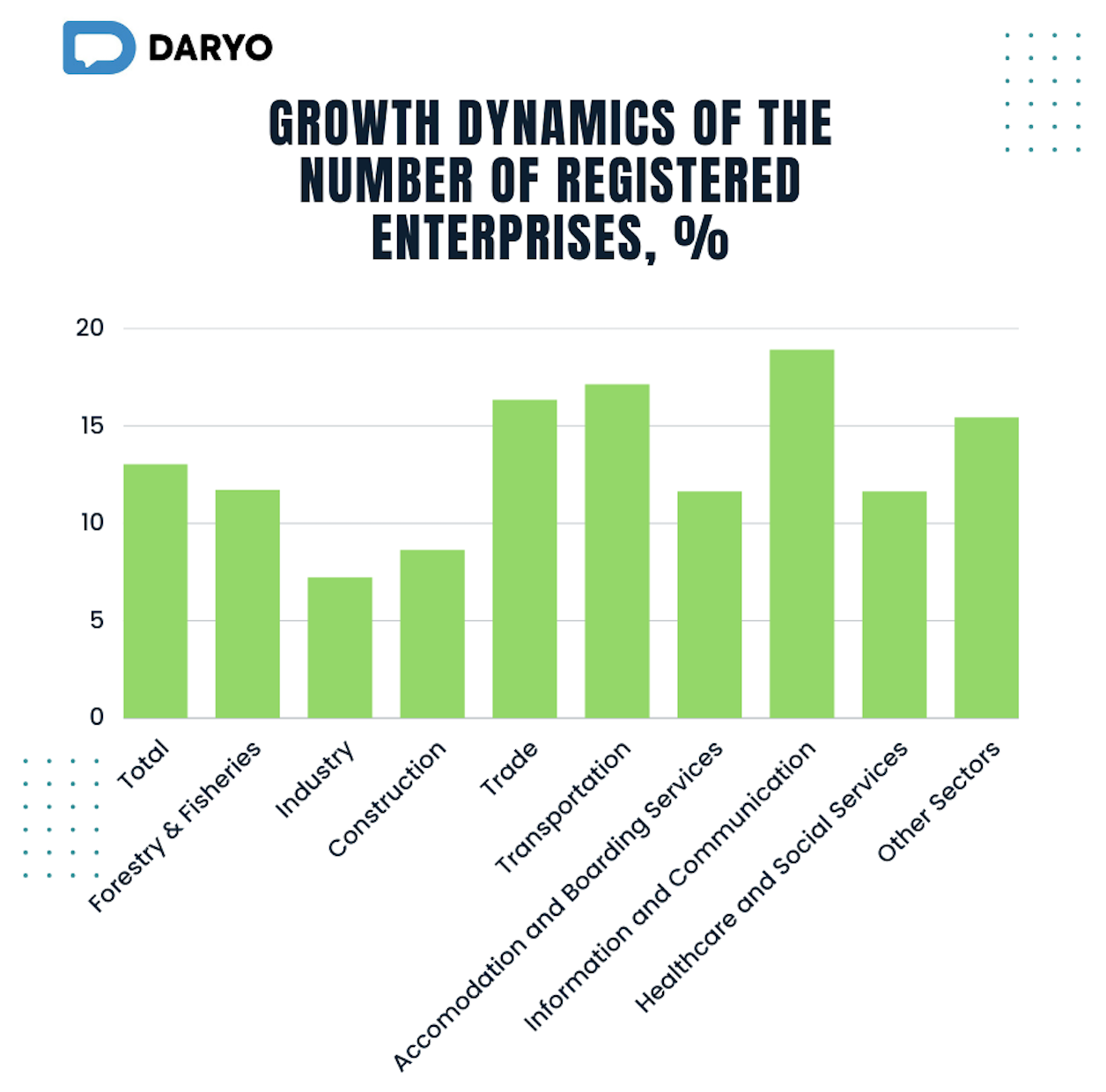 On the legal front, as of July 1, 2023, the number of registered entities stood at 595.6 thousand, marking a 13% increase from the same period in 2022. The fields of communication and information led to this growth with an 18.9% rise. Other sectors such as transportation and storage grew by 17.1%, trade by 16.4%, living and dining by 11.6%, and industrial sectors witnessed a 7.3% uptick.
Macroeconomic Demand Factors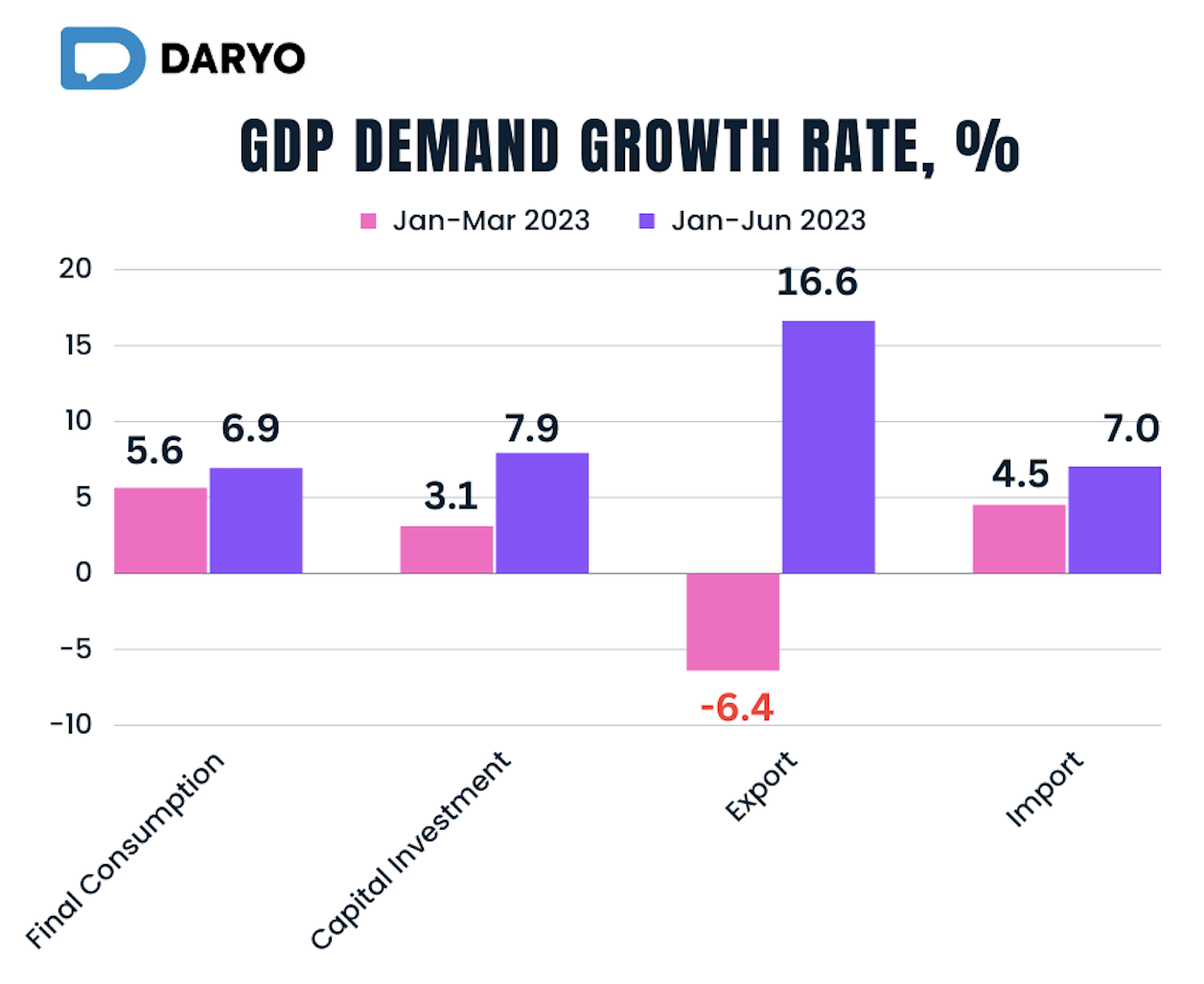 Economic prosperity in H1 2023 is underpinned by a slew of demand factors:
A 6.9% surge in final consumption, bolstered by the real income of the population increasing by 6.5% to UZS 9.3 mn ($767.70) per capita. Concurrently, retail trade turnover hit UZS 133 trillion ($10.98 bn), marking a growth of 6.9%. Cash receipts, encompassing both cash and terminal transactions, ballooned to UZS 295.4 trillion ($24.38 bn), a 30.7% leap. The average nominal salary settled at UZS 4.3 mn ($354.96), reflecting a 22% rise.
State budget expenses soared by 25.3%, accumulating to UZS 129.1 trillion ($10.67 bn).
Investments in fixed capital grew by 7.9%, reaching a figure of UZS 139 trillion ($11.47 bn).
Exports experienced a nominal growth of 23% (totaling $12.1 bn), while imports expanded by 17%, reaching $17 bn.
Credit deposits in the economy also witnessed a 25.1% spike, amounting to UZS 441.9 trillion ($36.47 bn).
With these figures in hand, it is expected that the Statistics Agency will provide further detailed insights in September, further illuminating the nation's economic landscape.
*Note: Projections for GDP consumption for January-June 2023 were made by the Ministry of Economy and Finance. The results for the first half of the year will be disclosed by the Statistics Agency in September.*