Central Asian countries are increasingly turning to gold as a "safety cushion" amidst global uncertainties, diversifying their foreign exchange reserves and reducing reliance on traditional currencies like the U.S. dollar. Correspondents of Daryo conducted an investigation into the gold reserves of Central Asian nations, revealing the dynamics of their holdings and the role of gold in their economic strategies.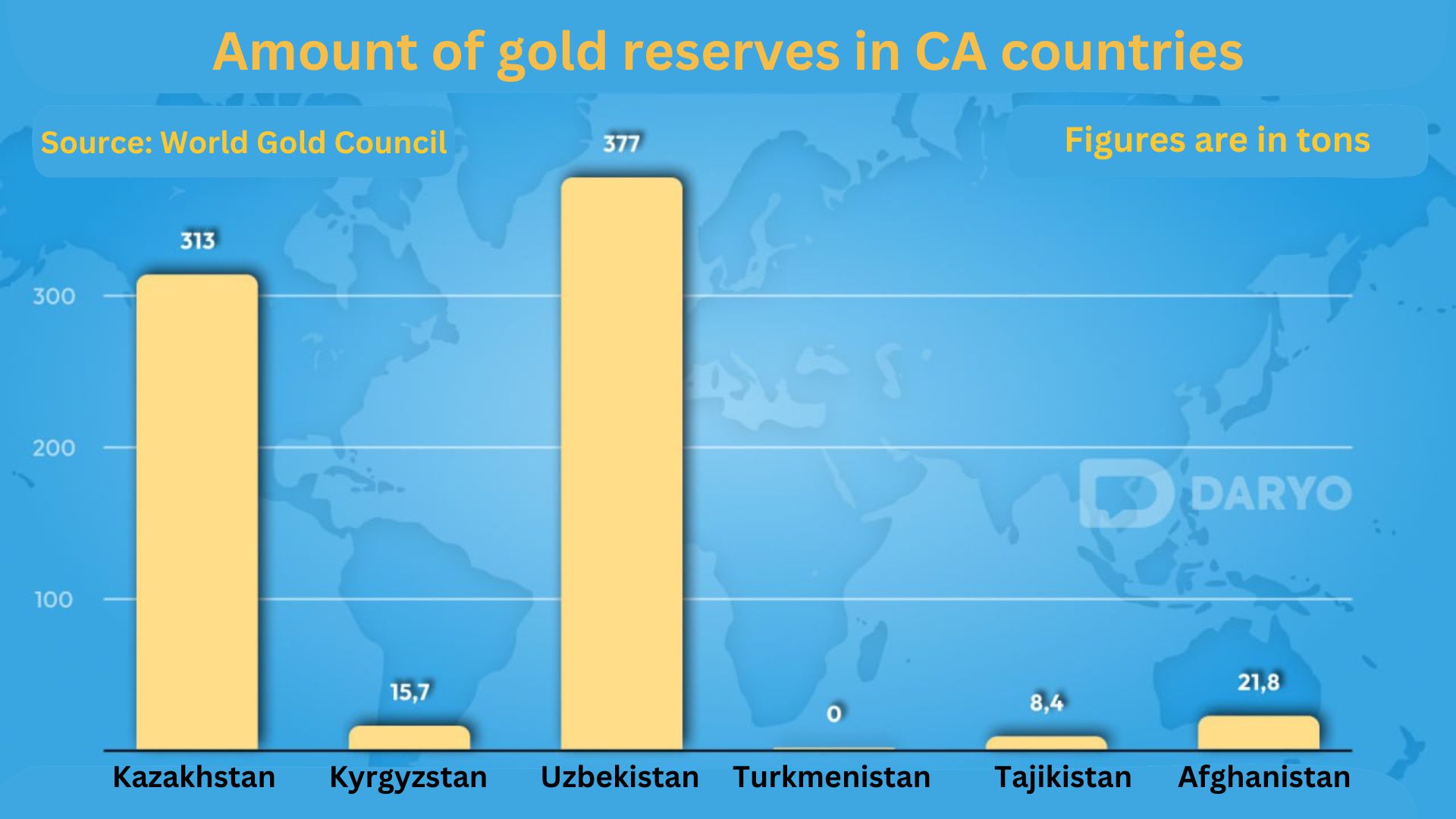 Kazakhstan: Kazakhstan, once a significant holder of gold reserves, has fallen to 17th place globally. In 2021, the country's gold reserves reached 402.38 tons, but a recent trend shows a reduction in holdings.
Kyrgyzstan: Kyrgyzstan witnessed an increase in its international foreign exchange reserves in August, despite selling foreign currency. In the first seven months of 2023, the country exported 7.4 tons of gold worth $463.5mn, a stark contrast to the previous year's figures.
Uzbekistan: Uzbekistan faced a decline in international assets, losing over $2.7bn compared to March, reaching a multi-year low. However, gold reserves surged, totaling $23.43bn at the start of September.
Turkmenistan: Nasdaq reports that Turkmenistan does not hold any gold reserves. According to the World Gold Council's 2021 data, Turkmenistan is among the countries with no gold reserves.
Tajikistan: Tajikistan's gold reserves remained stable at 8.4 tons in the second quarter of 2023. These reserves are crucial for maintaining exchange rate stability, equivalent to 6.9 months of imports.
Afghanistan: Afghanistan's gold reserves have remained constant at 21.8 tons for at least three years, according to Take-profit website data.
Gold as a "Defensive Asset": Gold is considered a "defensive asset" by experts, used primarily by central banks as a reserve asset, a tool of monetary policy, and occasionally in international settlements. It serves as a hedge during economic recessions, geopolitical conflicts, and periods of uncertainty.
Currently, gold serves primarily as a reserve asset for central banks, a tool for monetary policy, and occasionally in global transactions, as explained by the expert. Its value becomes evident during economic downturns, geopolitical tensions, and periods of uncertainty, such as the ongoing Russia-Ukraine conflict, high inflation, global economic slowdown, and logistical challenges. Given these uncertainties, many central banks worldwide are increasing their gold holdings as a safeguard and to diversify their investment portfolios, according to an investment analyst.
Furthermore, large gold reserves are strategically employed by Uzbekistan and Kazakhstan's central banks to stabilize their national currencies through interventions in the foreign exchange market. This substantial gold accumulation enhances these countries' creditworthiness, streamlining the process of securing international loans and reducing borrowing costs. This is particularly crucial for Uzbekistan and Kazakhstan, which actively engage in international borrowing.
While several countries have been accumulating gold reserves, data reveals that Kazakhstan and Uzbekistan reduced their holdings of the precious metal between 2022 and the second quarter of 2023. In contrast, other Central Asian nations have generally maintained stable gold reserve positions.
Earlier Daryo reported that the price of gold in Uzbekistan has surged by more than 1% in September, approaching its highest levels, as reported by the Central Bank. A 5-gram gold bar now costs UZS 3.955mn (equivalent to over $325), and one gram is priced at UZS 790,940 (more than $65), just slightly below the peak observed on May 5th.
Follow Daryo's official Instagram and Twitter pages to keep current on world news.