Europe and Central Asia (ECA) countries experience the slowest economic growth among Emerging Market and Developing Economies (EMDE) according to the latest Global Economic Prospects report by the World Bank. The report, which provides a comprehensive analysis of the world's economies, suggests that the economic output of these countries fell to 1.2% in 2022. When excluding Russia and Ukraine, growth in the ECA countries still weakened to 4.8%, pointing to an overall sluggish trend.
Broad-Based Economic Slowdown
The decline in growth is not confined to a few nations but is spread across most countries in the ECA. This decline primarily stems from disruptions linked to Russia's invasion of Ukraine, a steep rise in inflation, severe monetary tightening, reduced consumer and business confidence, and energy supply disruptions.
Eastern Europe faced a significant contraction with output falling by 20.2%. Central Europe and the Western Balkans, closely integrated into European Union (EU) value chains, also experienced dampened growth due to rising energy prices, supply issues, and monetary policy tightening.
Inflation Concerns
Inflation remains a critical issue in the ECA countries, with Türkiye having a particularly high rate. Despite nominal wage increases in some areas, real wages in Eastern Europe dropped as much as 3.3% in the first half of 2022. Although energy prices have come down from record highs in 2022, resulting in signs of inflation deceleration, core inflation remains high.
The 2023 Outlook: Mild Recovery but Persistent Uncertainties
The World Bank's forecast suggests a modest recovery in 2023, with the growth of the ECA countries projected at 1.4%. However, the ongoing geopolitical instability, primarily due to Russia's invasion of Ukraine, makes this outlook highly uncertain.
Among the 23 economies in the ECA countries, Tajikistan and Uzbekistan are expected to lead in terms of GDP growth in 2023, with projections of 6.5% and 5.1% respectively. Armenia and Georgia follow closely with a projected 4.4% economic growth for the year.
And the biggest decline is to be observed in war-torn Ukraine, with GDP growth at 2%, following -29.1% last year.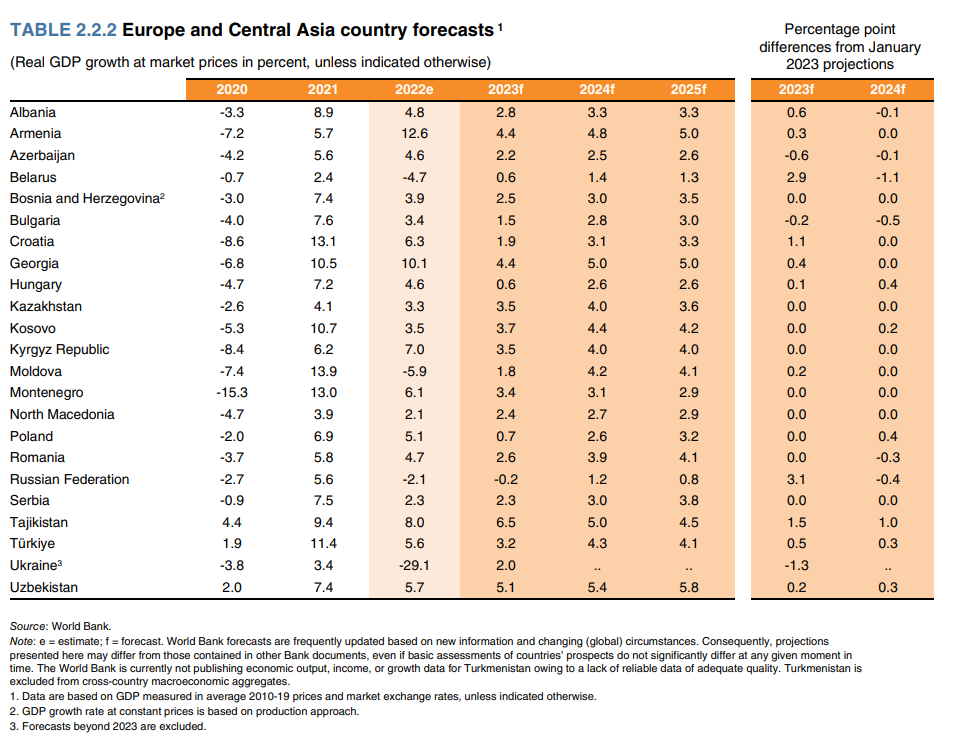 Risks on the Horizon
While there's a mild recovery projected, the economic outlook of these countries is riddled with downside risks. These include a more intense or prolonged conflict in Ukraine, escalating inflation coupled with tighter monetary policies, financial sector stress, and a possible slowdown in the euro area that could further dampen external demand for Central Europe and the Western Balkans.
Another concerning factor is the vulnerability of these countries to energy insecurity, particularly with their dependency on Russia. An escalation in Ukraine could exacerbate this risk, alongside intensifying geopolitical tensions in other parts of the countries and adverse climate-related events.