Statistics Agency reports that the Republic of Uzbekistan's foreign trade turnover in January-August 2023 showcased several prominent partner countries contributing significantly to this trade activity. The figures, reported in U.S. dollars, reveal the top 10 countries engaged in foreign trade with Uzbekistan during this period.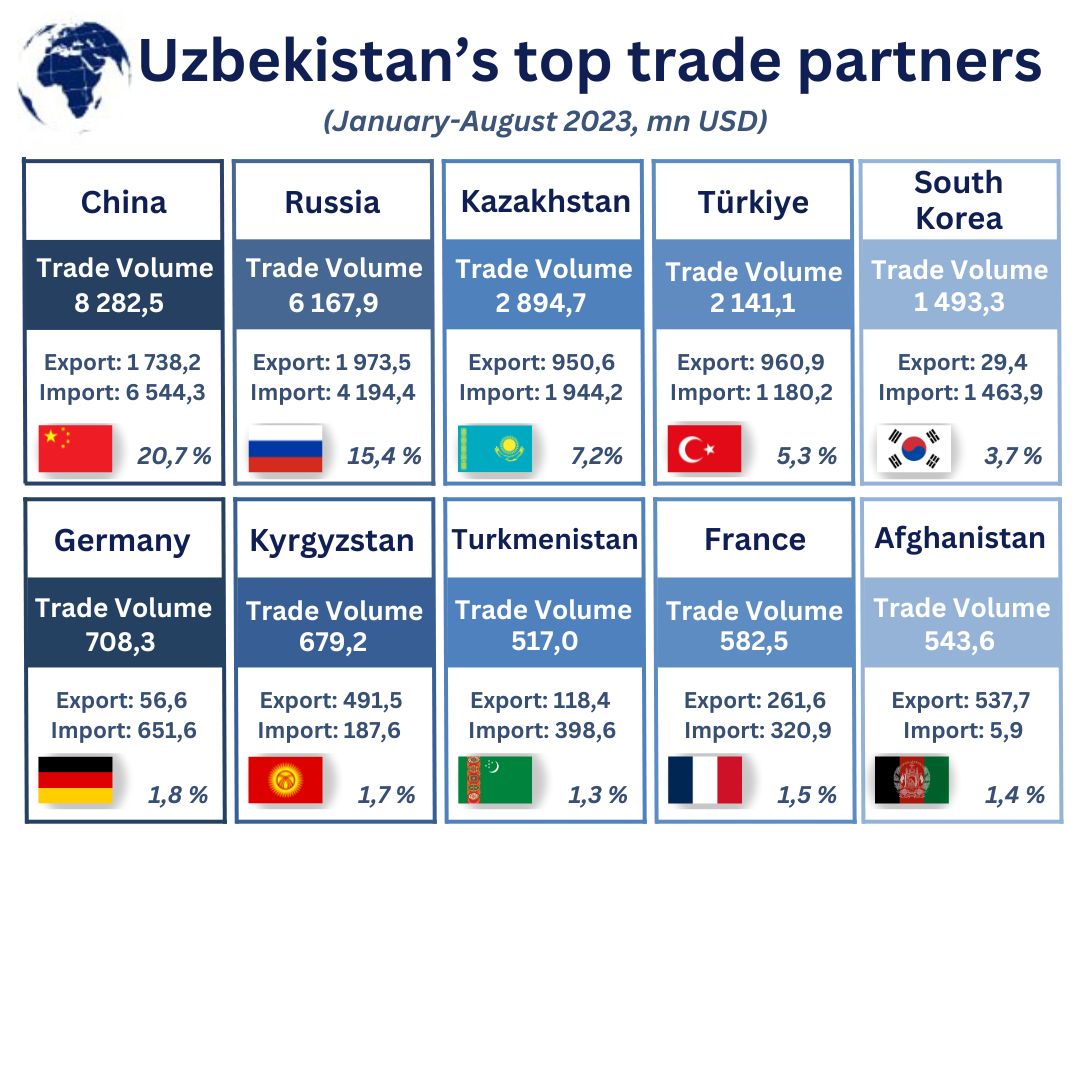 China emerges as the foremost partner, with a substantial trade turnover of $8.3bn with Uzbekistan. This robust economic relationship highlights the depth of trade ties between the two nations.
Russia follows closely behind, with a trade turnover of $6.2bn, underscoring the historically strong economic connections between Uzbekistan and its northern neighbor.
Kazakhstan ranks third on the list, with a trade turnover of $2.9bn, emphasizing the importance of regional trade partnerships within Central Asia.
Turkey secures its position as a significant trading partner, with a trade turnover of $2.1bn, highlighting the expansion of trade relations between the two countries.
Korea, with a trade turnover of $1.5bn, showcases its growing economic engagement with Uzbekistan.
Germany, though with a smaller trade turnover of $708mn, maintains its presence among Uzbekistan's top trading partners.
Kyrgyz Republic, with a trade turnover of $679mn, demonstrates the importance of regional cooperation within Central Asia.
France, with a trade turnover of $582mn, further diversifies Uzbekistan's international trade connections.
Afghanistan, with a trade turnover of $544mn, reflects the significance of trade links between the two neighboring countries.
Turkmenistan, with a trade turnover of $517mn, highlights the economic collaboration between the two countries.
These preliminary trade figures underscore the diverse range of nations engaged in trade activities with Uzbekistan, from regional neighbors to global economic powers. Uzbekistan's foreign trade remains dynamic, with these partner countries playing a crucial role in shaping its trade landscape. These statistics serve as a testament to the country's ongoing efforts to foster international economic cooperation and diversify its trade portfolio.
Follow Daryo's official Instagram and Twitter pages to keep current on world news.