Senior diplomats from South Korea, China, and Japan have reached an agreement to arrange a meeting between their respective countries' leaders at the earliest opportunity. This decision came following a rare meeting aimed at revitalizing trilateral exchanges between the three nations, Reuters reports.
Back in 2008, these three countries agreed to hold annual summits as part of an effort to foster regional cooperation. However, this initiative has been strained by various bilateral disputes and the challenges posed by the COVID-19 pandemic, with the last summit taking place in 2019. The foreign ministry in Seoul noted that while specific dates for the meeting were still under discussion, the foreign ministers of the three nations would convene in a couple of months.
This year, South Korea is hosting the three-way meetings and has proposed a summit to take place in late December, according to Japanese broadcaster TBS. Japan's foreign minister, Yoko Kamikawa, emphasized the shared need among the three countries to restart high-level talks, including summits, as soon as possible. She described these discussions as valuable opportunities to address various challenges facing the region.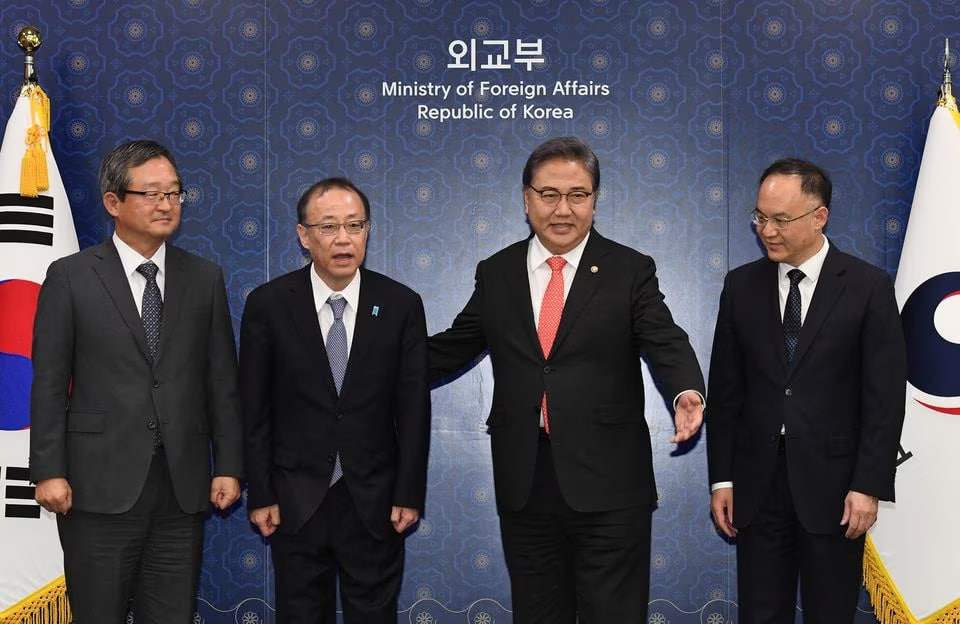 The recent meeting appears to be aimed, in part, at addressing Beijing's concerns about the growing cooperation between its two U.S. allies. This year, Seoul and Tokyo agreed to resolve legal, diplomatic, and trade disputes stemming from Japan's occupation of Korea from 1910 to 1945. This reconciliation has prompted concerns in China. Chinese foreign ministry spokesperson Wang Wenbin expressed the belief that cooperation benefits all three parties and advocated strengthening practical cooperation to contribute to regional peace, stability, and prosperity.
South Korean President Yoon Suk Yeol and Japanese Prime Minister Fumio Kishida have taken steps to mend their countries' relations. In August, they held a historic trilateral summit with U.S. President Joe Biden, pledging to enhance cooperation, particularly in defense and economic security.
A senior South Korean official acknowledged China's proactive efforts to seek trilateral cooperation and meetings. This comes after souring bilateral ties due to the deployment of a U.S. THAAD anti-missile system in South Korea in 2017. China is expected to leverage trilateral trade ties to counterbalance the U.S.'s efforts to strengthen its alliances in the region. Additionally, Beijing aims to promote people-to-people exchanges and improve communication and dialogue with Seoul and Tokyo on security and defense matters.
Both Japan and South Korea share an interest in maintaining a stable security relationship with China and seeking its assistance in managing North Korea's nuclear development program. These shared interests provide opportunities for strategic communication, confidence-building, and crisis prevention. Traditionally, China's premier has attended the trilateral summits, and South Korea is pushing for a separate visit by President Xi Jinping.
The recent meeting included South Korean Deputy Foreign Minister Chung Byung-won, Japanese Senior Deputy Foreign Minister Takehiro Funakoshi, and China's Assistant Minister of Foreign Affairs Nong Rong.
Follow Daryo's official Instagram and Twitter pages to keep up to date on world news.