Foreign IT companies operating in Uzbekistan paid 32.4 bn soums of taxes between January and April which is 1.6 times more than last year, the Tax Committee reports.
Ten of the top IT firms, including Meta, Google and Apple, made up 95% of the total amount of taxable income paid by the foreign companies.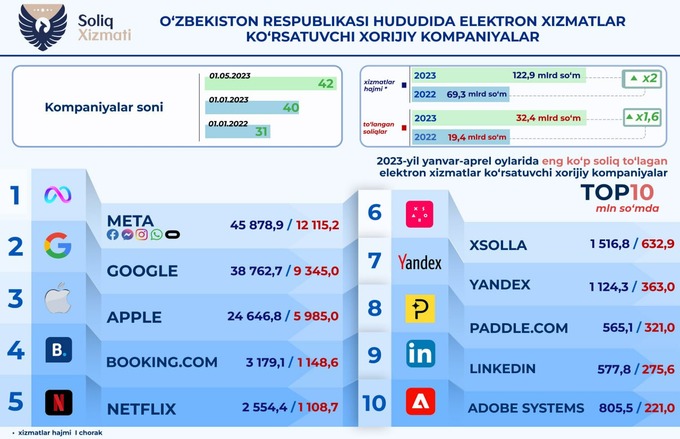 Meta (Facebook, Instagram) - 12.1 bn soums;
Google - 9.3 bn soums;
Apple - 6 bn soums;
Booking.com - 1.1 bn soums;
Netflix - 1.1 bn soums;
Xsolla (acceptance of payments in online games) - 632.9 bn soums;
Yandex — 363 bn soums;
Paddle.com (sales of digital products) - 321 bn soums;
LinkedIn - 275.6 bn soums;
Adobe Systems - 221 bn soums.
In 2022, these foreign companies paid 44.8 bn soums in taxes. 98% of all payments were made to the same 10 companies mentioned above.
At the end of 2022, 40 such companies were registered in Uzbekistan, which is twice as many as in the previous two years.