Oliy Majlis Senate summit spends over 1 bln soums to host participants
The papers circulating on social networks has disclosed how the Senate of the Oliy Majlis of Uzbekistan summit spent 1 billion 56 million soums for the republic budget to entertain 300 guests.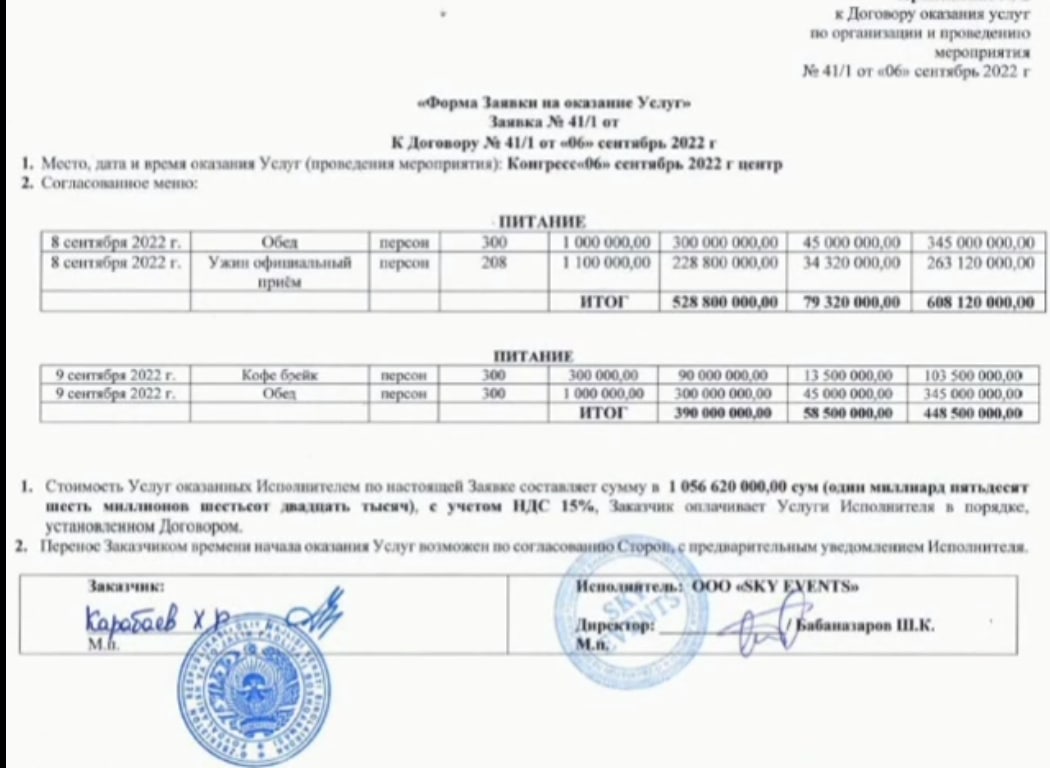 "Uzbek hospitality" provided by "Sky events", which provides services for the delivery of restaurants and food products, took place on September 8-9, 2022.
According to the documents, the dinner organized for 300 guests on September 8 cost 345 million soums. 263 million 120 thousand soums were spent for the dinner. The coffee break on the second day amounted to 103 million 500 thousand soums, while the lunch cost a staggering 345 million soums.
"Daryo" sent a request to the information service of the Senate, asking to what extent it is correct to spend 1 billion 56 million soums on the hospitality organized for the guests of this summit while the Ministry of Finance is expressing an opinion on reducing the expenses of the republican budget.
This summit was the 14th summit of women leaders of the inter-parliamentary union member states, and it was a very important event. As you know, Uzbekistan promotes and supports many initiatives in the international arena. These initiatives will be promoted in the field of similar summits.
This summit is held alternately in member countries. This is a great confidence in Uzbekistan, Hojiakbar Tolaganov, the head of the information service of the Senate said.
He said that most countries currently rely on parliamentary diplomacy.
"Currently, most countries rely on parliamentary diplomacy. The reason is that the deficiencies made by the governments in the implementation of the agreement between the countries can be eliminated through the institution of parliamentary control," the head of the Senate information service noted.