Indonesia's Anak Krakatau volcano experienced two eruptions on the morning of June 9, causing a thick plume of ash to rise and travel southwest, according to the country's volcanology agency, PVMBG.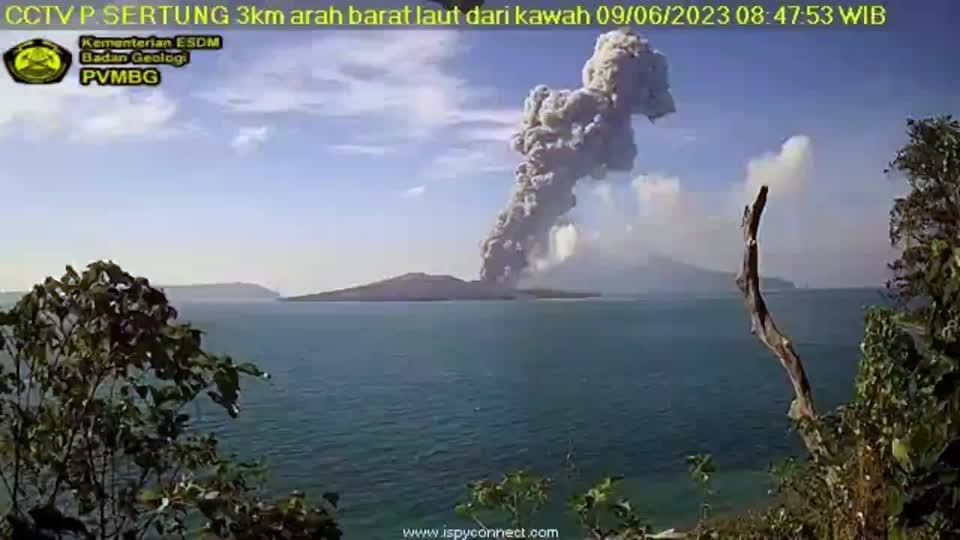 CCTV footage from a nearby observation post captured the dark ash cloud as it billowed into the sky. No casualties or evacuations have been reported thus far, as the nearest settlements are located 16.5 km away from the 157-meter-high volcano. However, authorities have issued a warning for residents to avoid any activities within a five km radius of the volcano.
History of Krakatau
Krakatau, also known as Krakatoa, is an island located in the Sunda Strait between Sumatra and Java in Indonesia. It belongs to the Indonesian island ring, which is a subduction zone known for its highly explosive volcanoes. The frequent types of eruptions at Krakatau include Plinian eruptions, pyroclastic flows, and minor strombolian eruptions accompanied by short lava flows.
In 1883, Krakatau gained tragic notoriety when it experienced a catastrophic eruption. The explosion was so immense that the sound was heard over 4800 kilometers away, making it the loudest sound ever recorded. The eruption triggered pyroclastic flows and tsunamis, causing widespread devastation in Java and Sumatra. The disaster claimed the lives of more than 36,400 people.
Since the catastrophic eruption, a new volcanic island called Anak Krakatau has emerged at the site of the previous destruction. The small volcanic island experienced several sinkings into the ocean before stabilizing in 1930. In recent years, Anak Krakatau has exhibited strombolian eruptions characterized by short lava flows and occasional volcanic activity. Starting in 2007, the volcano entered a phase of increased activity, with intermittent periods of rest. Notably, in December 2018, a significant collapse of Anak Krakatau occurred, triggering a tsunami that affected the surrounding islands and resulted in the loss of at least 439 lives.
The eruption and subsequent collapse of Anak Krakatau serve as reminders of the volatile nature of this volcanic system and the potential hazards it poses to the region. Ongoing monitoring and research efforts continue to study and understand the behavior of Krakatau to better prepare for future volcanic activity and mitigate potential risks.