"Very sadly we are a nation in decline and yet they go after a popular President, a President who got more votes than any sitting President in the history of our country, by far. And did much better the second time in the election than the first, and they go after him on a bogus hoax, just like the Russia, Russia, Russia hoax and all of the others," Trump stated in a video released on his Truth Social platform.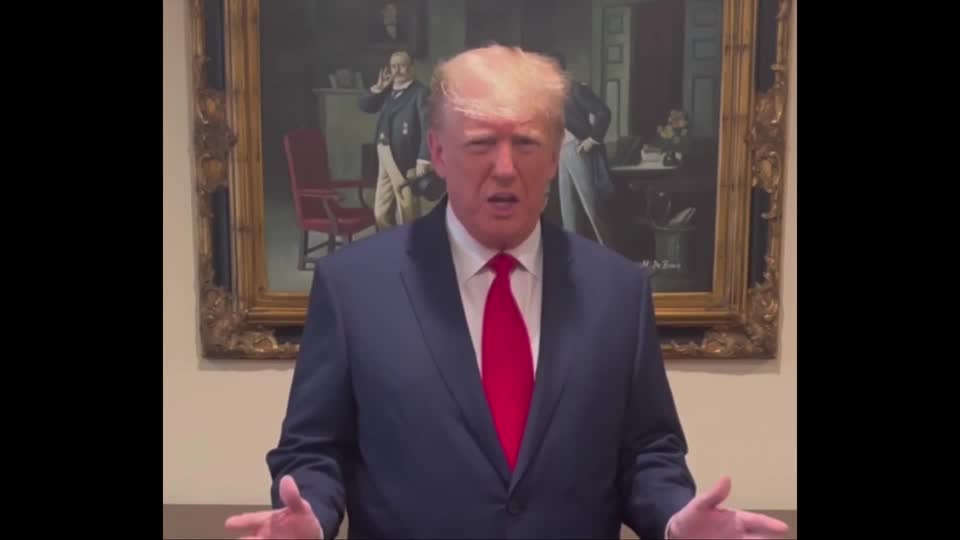 "This has been going on for seven years. They can't stop, because it's election interference at the highest level. There's never been anything like what's happened. I'm an innocent man. I'm an innocent person," Trump passionately asserted, defending himself against the indictment.
"They had the Mueller hoax, the Mueller report and that came out no collusion after two and a half years. That was set up by Hillary Clinton and Democrats. But this is what they do, this is what they do so well. If they would devote their energies to honesty and integrity, it would be a lot better for our country. They could do a lot better, they could do a lot of great things," Trump continued, expressing frustration with the ongoing legal challenges.
Trump highlighted the accomplishments of his presidency, citing energy independence, a strong military, tax cuts, and deregulation. He lamented the decline he perceives in the country since leaving office and accused the Justice Department and FBI of weaponization.
"It's a hoax. The whole thing is a hoax, just like Russia, Russia, Russia. Just like the fake dossier was a hoax. You saw the Durham report, you saw the Mueller report, It was all a big hoax. You had two impeachments and they lost and we won. And we have tremendous support. But that was a hoax and a scam. And now they are doing it again," Trump stated, likening the current indictment to previous allegations against him.
He characterized the indictment as part of ongoing election interference, aimed at tarnishing his reputation to gain an advantage in future elections. Trump reiterated his innocence and vowed to fight the charges, just as he has fought previous legal battles.
"I'm an innocent man, I did nothing wrong. And we will fight this out just like we've been fighting for seven years. It would be wonderful if we could devote our full time to making America great again," Trump said, expressing a desire to focus on the betterment of the country.
Despite the indictment, Trump remains committed to his vision of putting America first and making it great again. He expressed confidence in proving his innocence and defended his record of putting the country's interests at the forefront. Trump concluded by thanking his supporters and reaffirming his determination to prevail in the face of what he believes to be unfair treatment.