Kyrgyzstan's President, Sadyr Zhaparov, highlighted the importance of addressing global challenges and emphasized his country's commitment to contribute to their resolution. Speaking at the Astana International Forum in Kazakhstan, Zhaparov stressed the need for cooperation among Central Asian nations in tackling modern threats and challenges.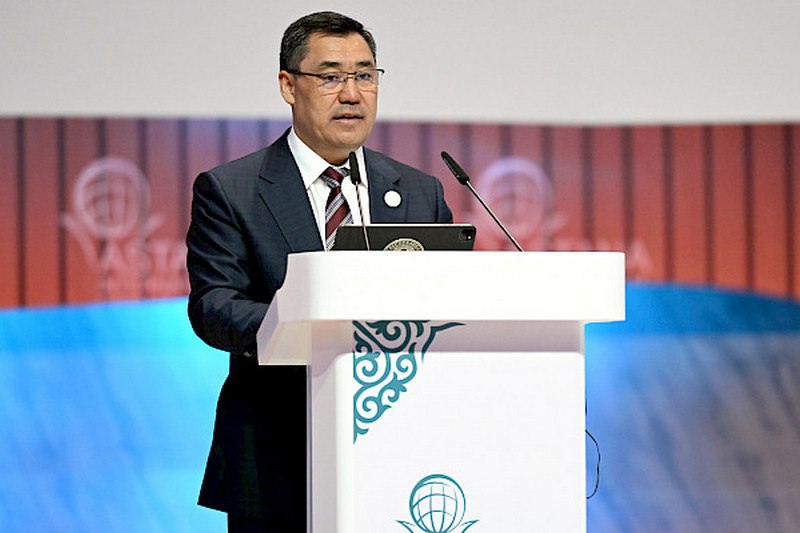 Zhaparov pointed out that the process of shaping a new world order is accompanied by increasing security threats and challenges to sovereign states and the global community as a whole.
Addressing Climate Change and Biodiversity Conservation
The Kyrgyz leader highlighted the adverse effects of climate change in the Central Asian region, including glacier melting and a rise in natural disasters. These developments pose significant threats to socio-economic development, food security, and incur rising costs. Zhaparov emphasized the importance of transitioning to a "green economy" and adopting efficient water and natural resource management practices.
Optimizing Water Resource Usage
Zhaparov emphasized Kyrgyzstan's prioritization of water-related matters and the implementation of integrated water resources management principles. The country has initiated the process of updating legislation, including the Water Code of the Kyrgyz Republic. In February 2023, the National Water Strategy until 2040 was adopted, outlining measures for responsible water usage. Zhaparov underscored the country's responsibility in the region due to its location in the water resource formation zone shared with neighboring nations.
Promoting Renewable Energy Sources
The Kyrgyz leader addressed the energy sector, acknowledging the world's challenging stage of development. Given electricity shortages and high energy prices, Kyrgyzstan has embarked on the construction and operation of small and medium-sized hydroelectric power plants. Kyrgyzstan's hydropower potential, estimated at over 142.5 billion kilowatt-hours of electricity, remains largely untapped. The country aims to achieve carbon neutrality by 2050 through the utilization of renewable energy sources. Zhaparov invited investors to engage in cooperation in the renewable energy field.
Strengthening Cooperation Among Central Asian Countries
Zhaparov highlighted the economic situation marked by geopolitical tensions, predicting an increase in protectionist measures and geopolitical rivalries. He warned that isolation from the global market could lead to reduced exports, imbalanced trade, decreased investment, and higher unemployment rates in the Central Asian region. The president emphasized the importance of regional cooperation, seeking new effective formats and engaging with global platforms collectively as a region. Zhaparov stressed that addressing these challenges necessitates coordinated efforts among states and the international community, emphasizing the need for the shared development of the Central Asian region.