CIS Secretary General, Sergei Lebedev urged countries of the union to unite against "external aggression", as he addressed the 52nd meeting of the CIS Council of Heads of Security Agencies and Intelligence Services in Minsk on June 1.
"Minsk is not called the capital of the Commonwealth for nothing. Many meetings are regularly held here, which are dedicated to our cooperation and interaction. Today, in the context of rough and aggressive pressure on Belarus, Russia, and other CIS countries, this is especially important. It is very important for us to join forces in countering these threats and pressure in order to protect the sovereignty and independence of the Commonwealth countries," Lebedev noted.
He added that attempts of terrorist attacks and sabotage were observed on the territory of Belarus and Russia. "The heads of special services and security agencies have gathered to discuss joint measures to counter these new challenges and threats. I hope that at today's meeting, which will consider many issues related to countering terrorism and encroachment on our sovereignty, decisions will be made to strengthen our security," Lebedev concluded.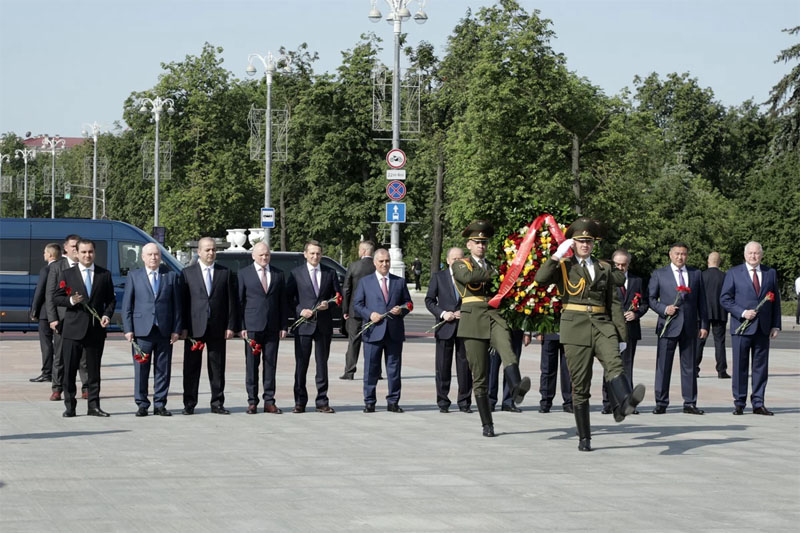 CIS delegates June 1, Minsk source: belta
Aleksandr Lukashenko, the president of Belarus, commenting on Lebedev's words, added that the war in Ukraine "started long before 2014".
"I absolutely agree with President Putin when he says that it was not us who started this war. It started long before 2014. With that coup that took place then, we saw who led Ukraine to this," the head of state said.
He noted: "We saw everything that happened here: that "brown" coup that took place, and what Ukraine is being led to. We saw who was in the vanguard. Imagine: if Mexico started bullying US citizens, Americans? That Mexico would not have existed a long time ago," drawing a parallel of "what is" using Mexico and the USA as an example of how Russia's actions are justified, the US would have reacted in a similar light to protect its citizens.
He stressed that the leadership of Ukraine had many options for people to live peacefully throughout Ukraine. "But neither former [sic. presidents] Yanukovych, Poroshenko, nor the current Zelensky took advantage of this. Why didn't they use it? Did they want war? No. They were simply pushed to it. We found pain points where it was possible to put pressure," Lukashenko said.
The Commonwealth of Independent States (CIS) is comprised of 12 member states: Armenia, Azerbaijan, Belarus, Georgia, Kazakhstan, Kyrgyzstan, Moldova, Russia, Tajikistan, Turkmenistan, Ukraine, and Uzbekistan.
Despite being a Founding State of the CIS and one of the governments to ratify the Creation Agreement in December 1991, Ukraine declined to ratify the CIS Charter because it disagreed with Russia's status as the sole legitimate successor to the Soviet Union. As a result, it has never been a full member of the CIS, but in 2014, it severed all ties.
Other CIS members, including Uzbekistan and Kazakhstan, meanwhile, neither supported nor opposed Russia's "special operation" in Ukraine. However, Uzbekistan's former Foreign Minister Abdulaziz Kamilov in March 2022 said that Uzbekistan recognize the "independence, sovereignty and territorial integrity of Ukraine" and did not recognize the Luhansk and Donetsk People's Republics.
When Kazakh Foreign Minister Mukhtar Tileuberdi was asked whether Kazakhstan would follow Russia's lead, he responded, "I must assure you: there is no question of Kazakhstan's recognition of the Donetsk and Lugansk People's Republics." In the weeks following his remarks, Kazakhstan called for a ceasefire and peaceful negotiations and avoided lending Russia support, either materially or rhetorically.