In a defiant display of solidarity, Chinese Defense Minister Li Shangfu is embarking on a six-day visit to Russia and Belarus, underscoring Beijing's commitment to supporting nations that have faced isolation in the aftermath of the Ukraine conflict. The visit comes amidst strong objections from Western nations, as China and Russia seek to fortify their strategic partnership and challenge the dominant Western-led international order.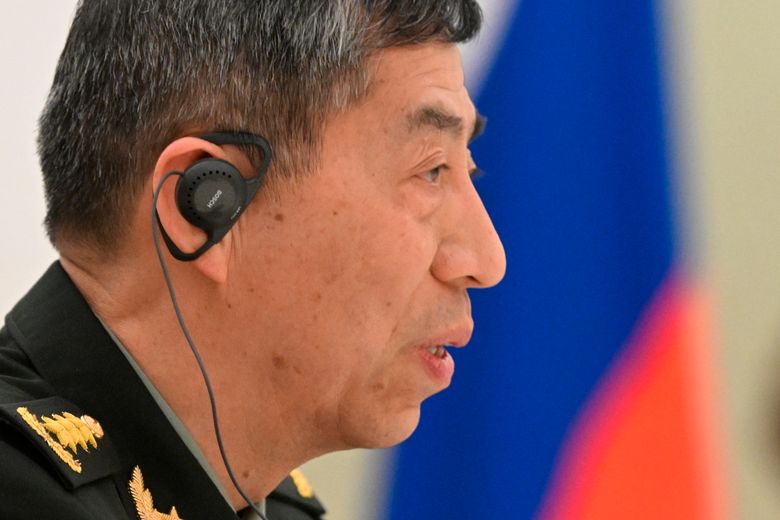 Li's journey commenced on August 14, with plans to deliver a keynote address at the Moscow Conference on International Security, where defense leaders from various countries will converge to discuss pertinent global security issues. China's Defense Ministry confirmed the trip, noting Li's intention to meet with Russian defense officials and counterparts from other nations, as announced by spokesperson Col. Wu Qian through the ministry's social media account.
Russian Foreign Minister Sergey Lavrov is set to address the conference on a topic focused on the "Majority World countries' search for ways to development outside Western mechanisms, including strengthening multilateral associations of a new type." Representatives from approximately 100 countries and eight international organizations have received invitations to participate in the conference.
The conference's agenda reportedly includes discussions on security in a multipolar world order and areas to restore international cooperation, against the backdrop of what the Russian Foreign Ministry spokesperson described as "aggressive claims by Euro-Atlantic elites for world domination."
In response to inquiries about the visit, Chinese Foreign Ministry spokesperson Wang Wenbin alluded to the ongoing strategic communication between Chinese and Russian leaders on a range of issues. He highlighted the sustained high-level exchanges of views concerning bilateral cooperation and shared concerns.
Wang emphasized that both nations are committed to advancing the China-Russia comprehensive strategic cooperative partnership, which was reaffirmed in a joint statement between Chinese president Xi Jinping and Russian president Vladimir Putin in Beijing last year, just prior to the Ukraine conflict.
Li's presence at the Moscow conference serves as a stark reminder of the joint efforts by China and Russia to align their foreign policies and challenge the Western-led liberal-democratic global order. Despite potential economic and reputational consequences, these two nations continue to strengthen their ties in a bid to reshape the international geopolitical landscape.
Xi, meanwhile, visited Moscow in March, sending a message to Western leaders that their efforts to isolate Moscow over the fighting in Ukraine had fallen short.
Following his participation in the Moscow conference, Li will proceed to Belarus, a staunch ally of Russia. During his stay in Belarus, the Chinese Defense Minister is scheduled to engage in meetings and discussions with senior Belarussian state and military officials, as well as tour military facilities.
China has maintained a position of neutrality in the Ukraine conflict, accusing the United States and its allies of inciting Russia. Beijing has robust economic, diplomatic, and trade relations with Moscow and has consistently supported Russia's stance against international criticism of its actions in Ukraine. While providing verbal backing to Russia, China has refrained from supplying arms to either side of the conflict.
Follow Daryo's official Instagram and Threads pages to keep up to date on world news.