Samarkand to host 15 heads of state in SCO summit
The press service of the President announced the list of participants in the summit of the Council of Heads of State of the Shanghai Cooperation Organization that will be held in Samarkand from 15-16 September.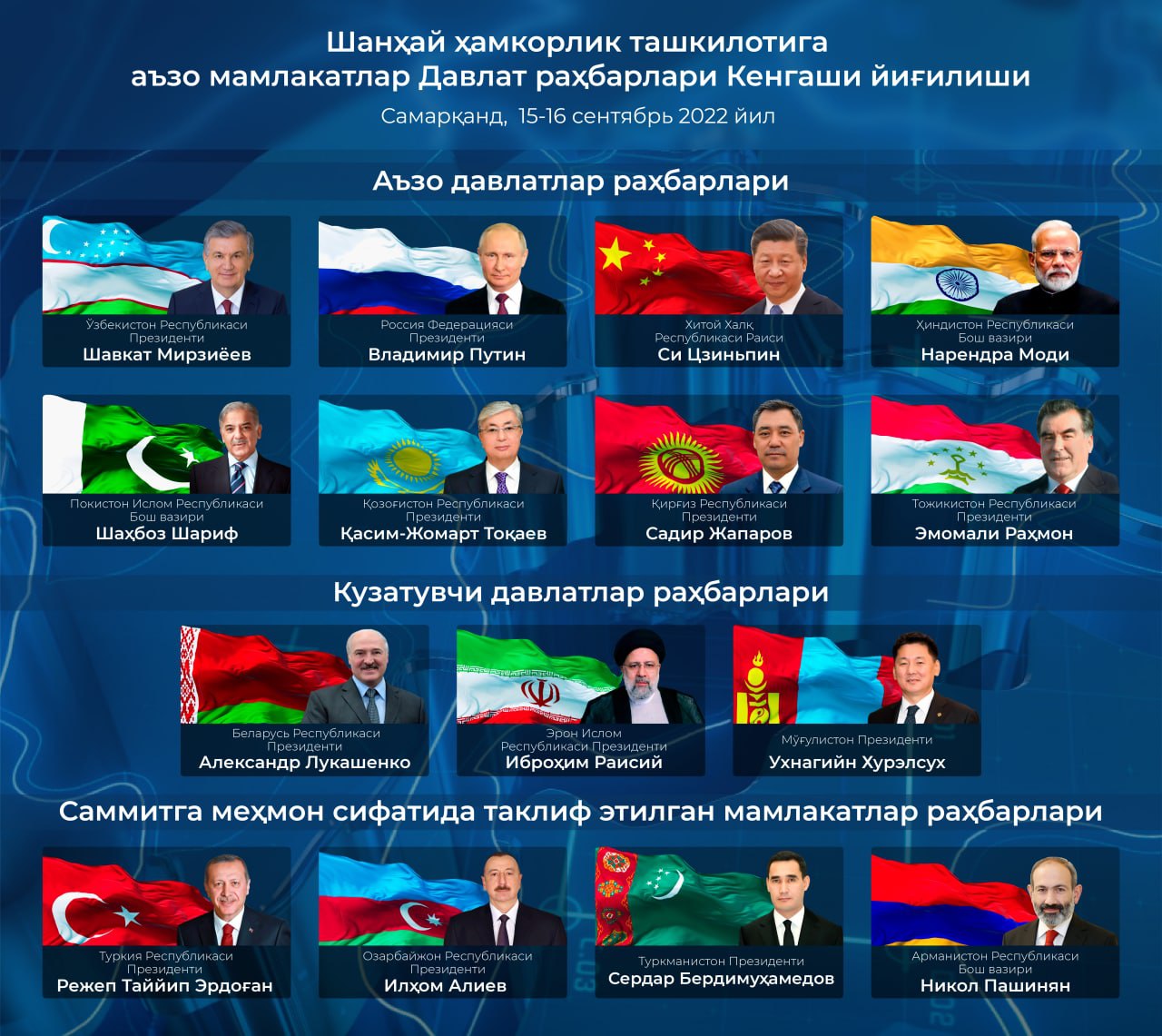 The leaders of 8 member states of the organization will take part in the summit: President of Uzbekistan Shavkat Mirziyoyev, President of Russia Vladimir Putin, President of China Xi Jinping, Prime Minister of India Narendra Modi, Prime Minister of Pakistan Shahboz Sharif, President of Kazakhstan Kasim-Jomart Tokayev, President of Kyrgyzstan Sadir Japarov, President of Tajikistan Emomali Rahmon.
President of Belarus Alexander Lukashenko, President of Iran Ebrahim Raisi, and President of Mongolia Ukhnagin Khuralsukh will visit the high-level meeting as observers.
The General Secretary of the organization Zhan Mina announced that Belarus has submitted an application for membership in the SCO. The decision to start the process of introducing the republic into the SCO membership will be made at the summit in Samarkand.
Iran is expected to be introduced as a new permanent member at the summit too.
President of Turkey Recep Tayyip Erdogan, President of Azerbaijan Ilhom Aliyev, President of Turkmenistan Serdar Berdimuhamedov and Prime Minister of Armenia Nikol Pashinyan were invited to the summit as guests.
This event will be the first face-to-face meeting of SCO leaders since 2019 and will end Uzbekistan's presidency of the organization.
During the Uzbekistan's tenure, the main focus has been on the strengthening of trade and economic relations within the organization, promotion of industrial cooperation, expansion of transport and communication interdependence, digital transformation and "green" economy, strengthening the international prestige of the SCO.