'Corrupt persons are like cockroaches', Uzbekistan's Anti-Corruption Agency Chief
Head of Uzbekistan's Anti-Corruption Agency Akmal Burkhanov on his Twitter page Tuesday (November 29) compared corrupt persons with cockroaches, adding that bribery occurs in places abundant in food, stressing that such places rarely get cleaned.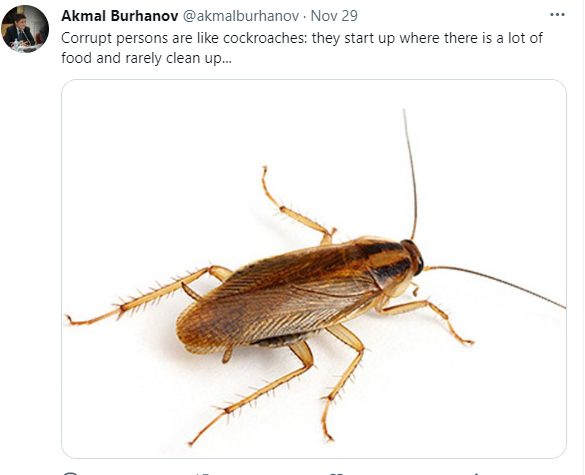 On the same day, the agency along with its local international partners hosted the Second Business Forum that discussed 'Integrity in the business community of Uzbekistan' that reflected on the freedom in the development of entrepreneurship, as well as measures aimed at eliminating bribery cases, improving anti-corruption laws, and increasing the investment attractiveness of the Central Asian country.
41-year-old Akmal Burkhanov was appointed director of the Anti-Corruption Agency in July 2020. The governmental body was established by presidential decree of June 29, 2020.