Thousands of doctors across England have embarked on a three-day strike for the eighth time since March, demanding improved pay and working conditions. Consultants and junior doctors, who constitute 80 % of hospital doctors, initiated this 72-hour strike at 7 am (06:00 GMT) on October 2. This strike coincides with the annual meeting of the ruling Conservative Party in Manchester, adding to the significance of their protest.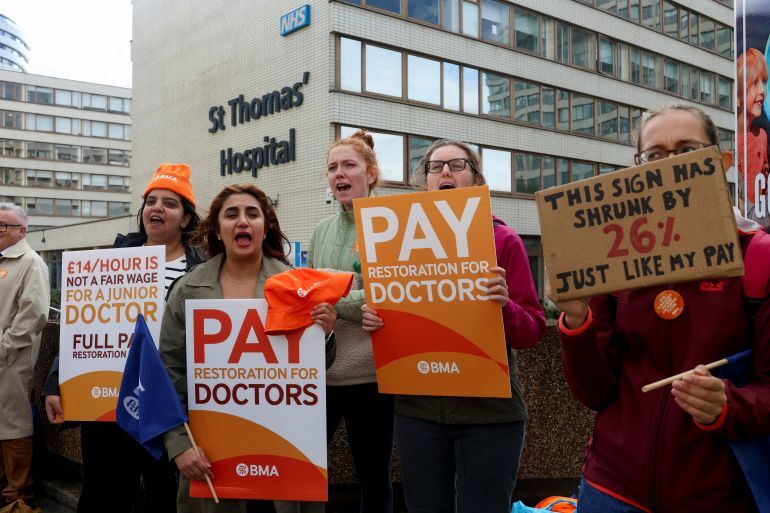 The publicly-funded National Health Service (NHS) has issued a warning, stating that the strike will severely impact nonemergency services, marking the second joint strike by consultants and junior doctors in less than a month. The strikes have already led to the rescheduling of nearly a million hospital appointments since they began in December.
Reasons Behind the Strike
Doctors participating in the strike cite inadequate pay raises that have failed to keep up with high inflation amidst a cost of living crisis in the UK. Years of funding cuts have resulted in severe staff shortages in the healthcare sector, forcing medical professionals to work longer hours without adequate support or breaks.
A recent survey by The British Medical Journal revealed that one in three medical students plan to leave the NHS within two years of graduating. Additionally, a lack of resources, including hospital beds and medical equipment, has left doctors feeling "undervalued and burnt out." Junior doctors, in particular, have experienced a real-terms (RPI) pay cut of 26.1 % since 2008.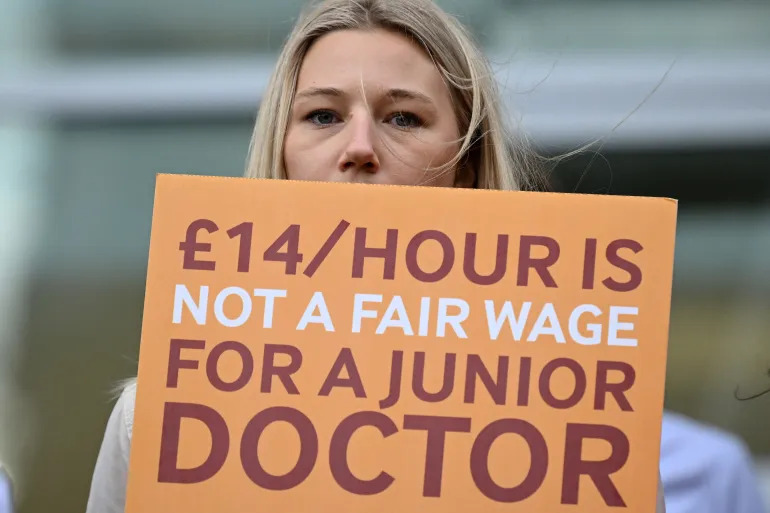 A consultant's starting basic full-time annual salary is £88,300 ($107,328), while a junior doctor who has just graduated from medical school earns approximately £29,384 ($35,716). According to a British Medical Association (BMA) survey, nearly half of junior doctors are struggling to pay their rent or mortgage during the cost of living crisis, and half have difficulty paying their energy bills.
Dr. Kiran Rahim, a junior doctor and pediatric registrar in a London hospital, said,
"Our goodwill has been exploited enough, and we're just done. Formal resolution with the BMA needs to happen."
Government Offer Rejected
Last year, junior doctors were offered a pay rise of 2 %, which the BMA deemed "insulting" and "well below inflation." In response, junior doctors demanded a 35 % pay remuneration, while consultants sought a 12 % raise. The government recently proposed pay increases of 6 % and 8.8 % for consultants and junior doctors, respectively, which doctors have rejected.
Doctors insist that a "credible offer" from the government is required to end the strikes. Professor Phil Banfield, BMA council chair, emphasized that doctors want to serve their patients and avoid strikes, but they need recognition for their skills and contributions to the healthcare system.
Impact of Budget Cuts
Wage stagnation in the UK has been a pervasive issue since the 2008 global financial crisis. The UK's austerity measures and slowdown in NHS spending have resulted in a budget shortfall of $28.6bn. The combination of soaring inflation, high energy costs, the impact of Brexit, and an aging population has created significant challenges in the healthcare sector.
Cuts in services, including hospital and A&E closures, have compounded the problem. Long A&E waits, stemming from staff shortages and a lack of hospital beds, contributed to 23,000 excess deaths in 2022, according to the Royal College of Emergency Medicine.
Professor Nora Colton, director of the Global Business School for Health (GBSH) at University College London (UCL), explains that a complex interplay of factors, including funding cuts, have led to systemic issues in healthcare.
Comparative Healthcare and Funding
While the NHS is one of the oldest publicly-funded healthcare systems globally, it is well-funded compared to other affluent nations, with the UK ranking sixth in health expenditure as a percentage of GDP in 2022, according to the King's Fund. However, health outcomes in the UK are below average, attributed to health and social inequality.
Professor Colton stresses the need for investment in infrastructure, innovation, and technology. She believes that while doctors deserve better conditions and compensation, the government is cautious about salary increases, as they are viewed as driving wage inflation.
Consultants are legally mandated to continue striking until the end of December, while junior doctors plan to strike until late February. The strikes are a reflection of the deep-seated issues plaguing the healthcare sector in the UK, and their resolution will require a concerted effort from both the government and medical professionals.
Follow Daryo's official Instagram and Twitter pages to keep current on world news.