On September 26, Uzbekistan's national team secured an impressive haul of medals, comprising 8 in total—1 gold, 2 silver, and 5 bronze, according to the official statement by the Uzbekistan National Olympic Committee.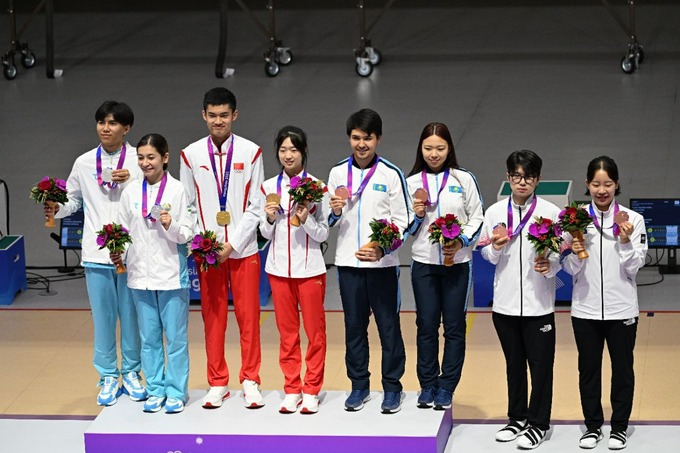 To date, Uzbekistan has amassed 22 medals, placing them fourth in the overall medal tally, trailing behind China (86 medals), South Korea (44), and Japan (42).
In the men's under-100kg judo category, Muzaffarbek Turaboev clinched the coveted gold medal. He achieved this remarkable feat by triumphing over Mongolia's Gonchigsuren Batkhuyag in a hard-fought final.
The combined efforts of Javokhir Sohibov and Mukhtasar Takhirova in the mixed team air rifle event (10m) earned them the silver medal. They faced tough competition from the host nation but delivered a commendable performance.
According to Gazeta.uz, Uzbekistan's shooting team made a significant return to the Asian Games podium, marking their presence after a 25-year hiatus. The last time Uzbekistan's sharpshooters achieved such success was in Bangkok in 1998.
Adding to their impressive tally, Uzbekistan secured another silver medal. Davlat Bobonov, competing in the men's under-90kg judo category, displayed tremendous skill and determination in the gripping final, narrowly losing to Kyrgyzstan's Erlan Sherov.
In the women's under-53kg taekwondo category, Charos Kayumova demonstrated her prowess and secured a hard-fought bronze medal. She faced off against a representative from Chinese Taipei in the semifinals, ultimately securing the bronze. This accomplishment brought Uzbekistan's taekwondo medal count to three.
In the women's under-78kg judo category, Iriskhon Kurbonboeva displayed her prowess and claimed a well-deserved bronze medal. In the contest for third place, she outperformed Mongolia's Huslen Otgonbayar.
Uzbekistan's judoka Alisher Yusupov, competing in the heavyweight category, emerged victorious in the battle for a bronze medal against Japan's Hyouga Ota.
Darya Latysheva, representing the Uzbekistan wushu team, added to the national accolades with a bronze medal. She earned this recognition in the nankuan and nandao programs, trailing behind competitors from China and Malaysia. This marks Latysheva's second Asian Games medal, as she had previously secured a silver in the 2018 Asian Games.
Fencer Zaynab Dayibekova from Uzbekistan also secured a bronze medal. In the individual saber competition, she narrowly missed the finals, facing a close defeat to South Korean athlete Jisu Yun with a score of 14:15 in the semifinals.
Follow Daryo's official Instagram and Twitter pages to keep up to date on world news.