In the latest Digital Quality of Life Index (DQL) published by Surfshark, Kyrgyzstan has made notable strides, ranking 71st out of 121 countries. This marks a significant improvement of twenty places from its position in the previous year's rankings.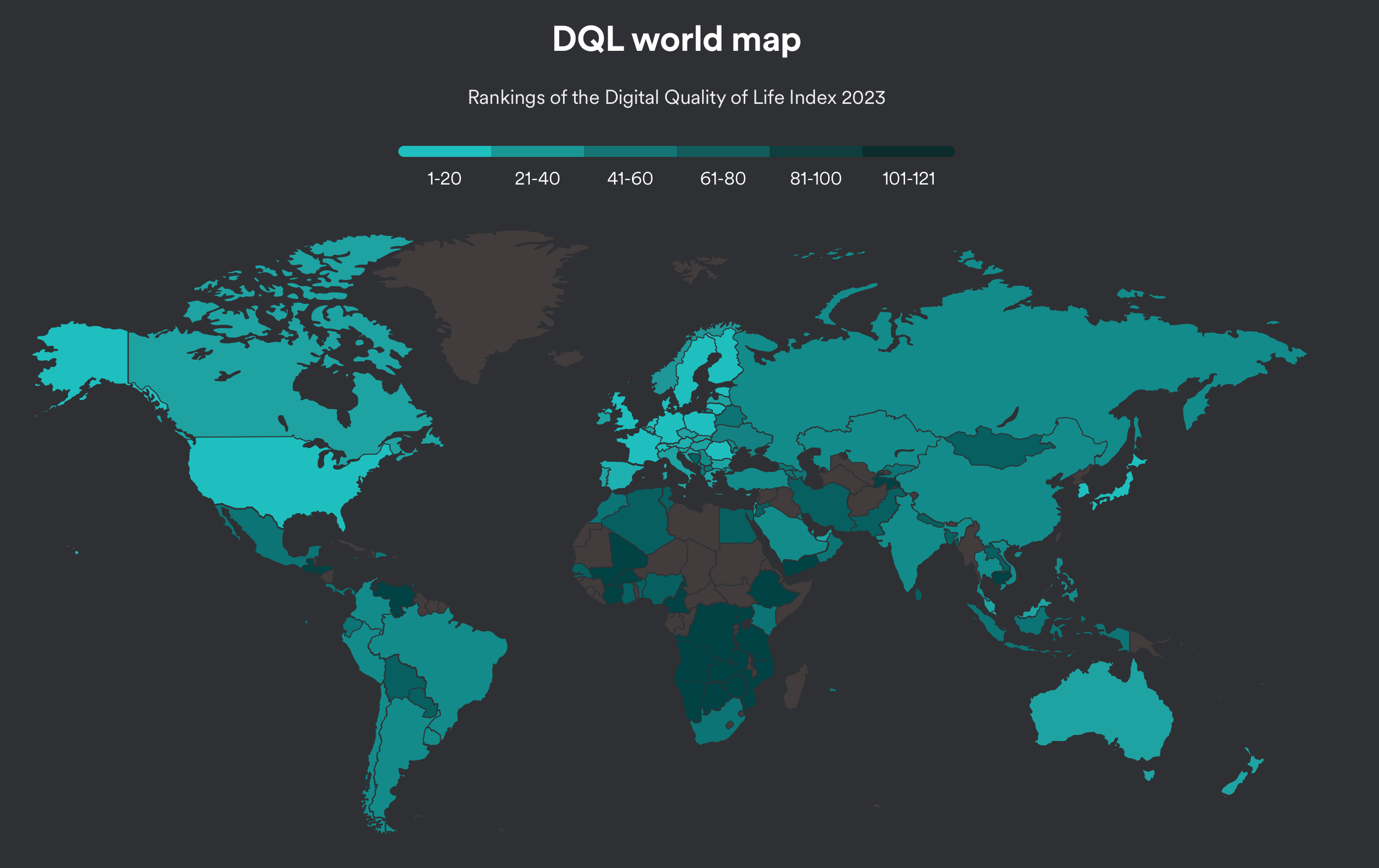 The DQL Index, which evaluates the "digital well-being" of nations, measures performance across five key parameters: internet quality, affordability, e-security, e-infrastructure, and e-government.
Kyrgyzstan's most noteworthy achievement in this year's index is in internet affordability, where it secured the 6th position globally. However, the nation faces challenges in other areas, ranking 98th in e-infrastructure, 85th in e-government, 88th in internet quality, and 93rd in e-security.
Compared to its Central Asian neighbors, Kyrgyzstan surpasses Tajikistan, which ranks 117th but falls behind Kazakhstan, holding the 47th spot in the overall rankings. In the Asian region, Kyrgyzstan claims the 23rd position, with Singapore leading the region as the digital quality of life frontrunner.
One notable area where Kyrgyzstan lags is in internet quality. The country's internet quality is reported to be 16% lower than the global average. Fixed internet in Kyrgyzstan averages 55 Mbps, while the world's fastest fixed internet, found in Singapore, reaches a remarkable 300 Mbps. In contrast, Yemen has the slowest fixed internet globally, at just 11 Mbps.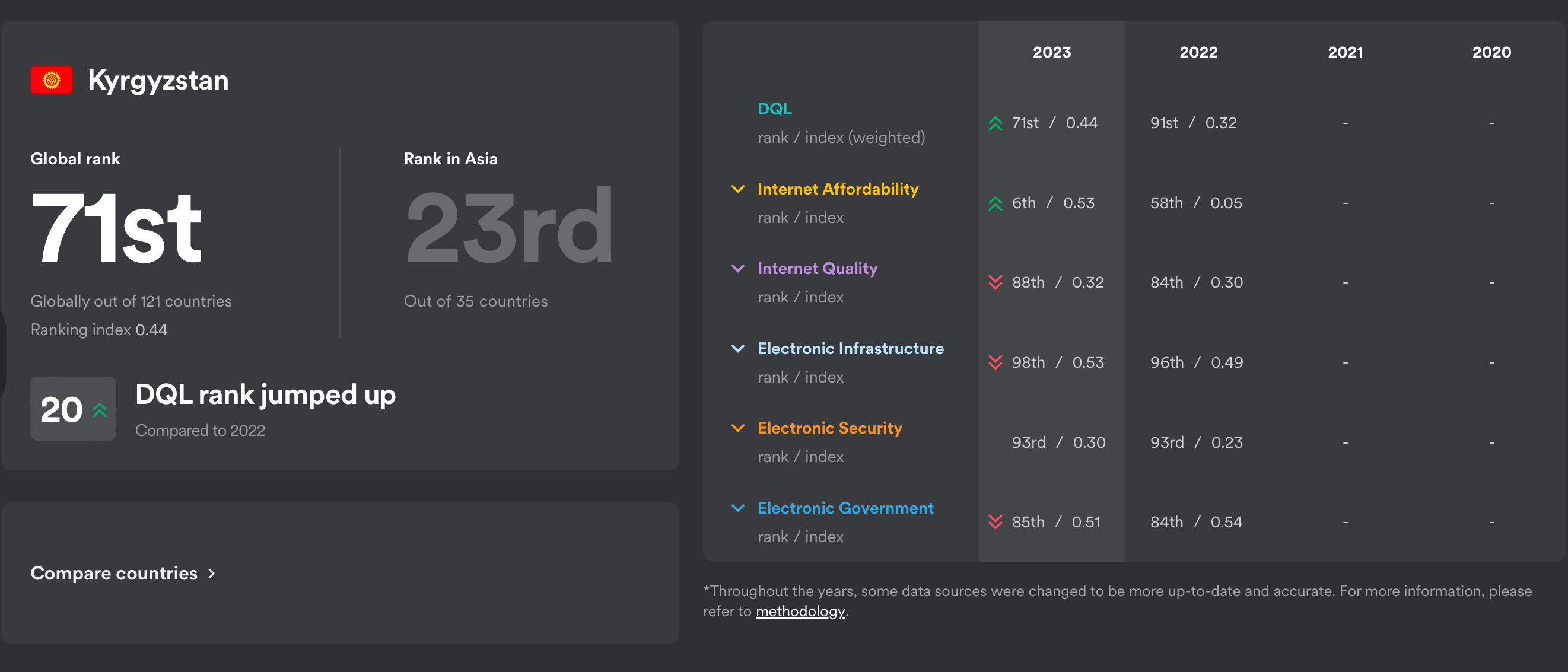 When it comes to mobile internet, Kyrgyzstan records an average speed of 31 Mbps. The United Arab Emirates boasts the fastest mobile internet at 310 Mbps, while Venezuela holds the title for the slowest, at 10 Mbps. In contrast to Tajikistan, Kyrgyzstan boasts a 69% higher mobile internet speed and a 17% faster-fixed broadband connection. Notably, mobile internet speed in Kyrgyzstan has improved by 25% since 2022, and fixed broadband speed has grown by 9%.
Despite the challenges in internet quality, affordability is a strong suit for Kyrgyzstan. The study reveals that Kyrgyzstanis need to work for only 30 minutes a month to afford fixed broadband internet, which is less than the global average. However, this is still twice the time needed in Romania, which has the world's most affordable fixed internet (18 minutes of work per month). For mobile internet, Kyrgyzstanis have to work 35 minutes and 40 seconds per month, again twice the time required in Luxembourg, which has the world's most affordable mobile internet (16 minutes of work per month).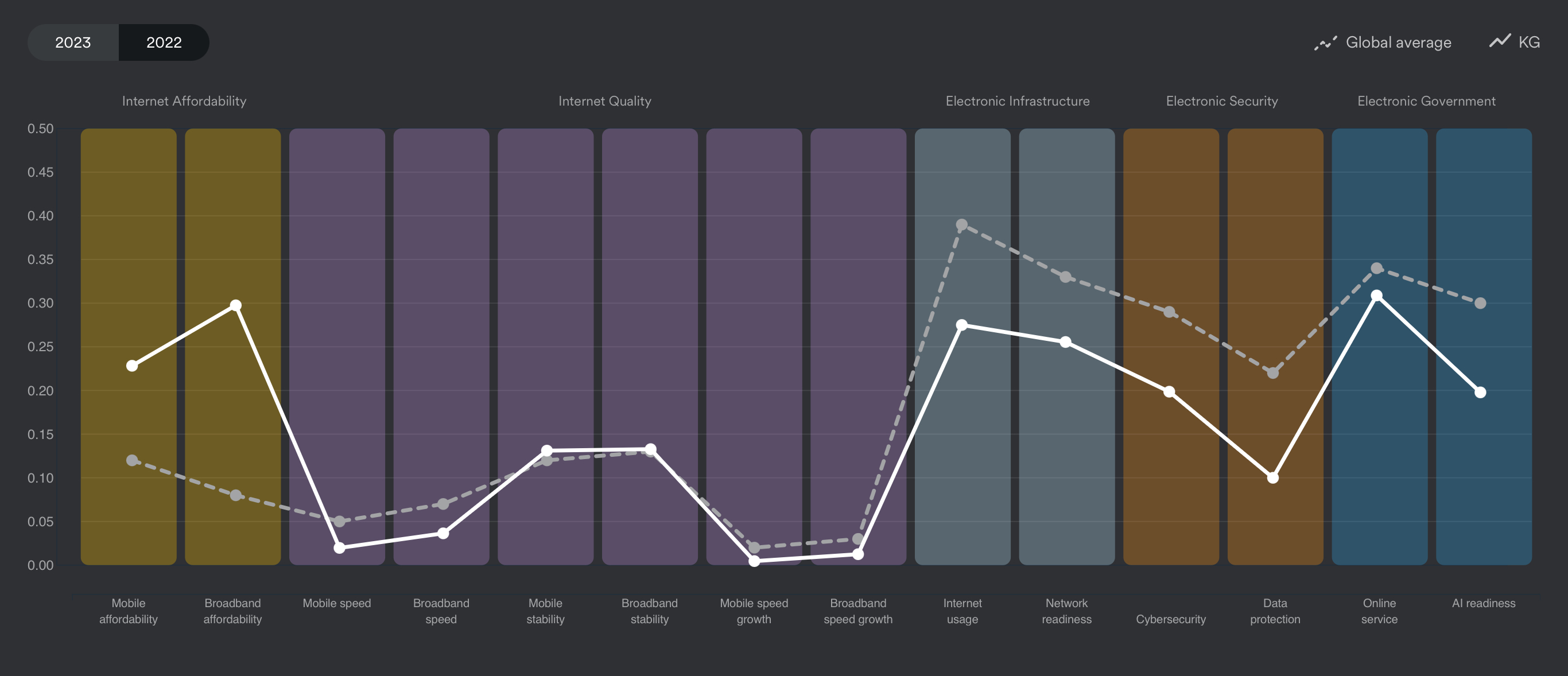 Globally, the top three countries in this year's DQL ranking are France, Finland, and Denmark. As per the index's creators, there has been a worldwide enhancement in internet affordability compared to 2022.
Kyrgyzstan's progress in the Digital Quality of Life Index is indicative of its ongoing efforts to enhance its digital infrastructure and accessibility. While challenges remain, the nation is making strides in bridging the digital divide and improving the quality of life for its citizens in the digital realm.
Follow Daryo's official Instagram and Twitter pages to keep current on world news.