The 8th European Film Festival is set to take place in Tashkent and Bukhara from October 1 to 5 as part of the Tashkent International Film Festival "Pearl of the Silk Road," according to the European Union Delegation in Uzbekistan.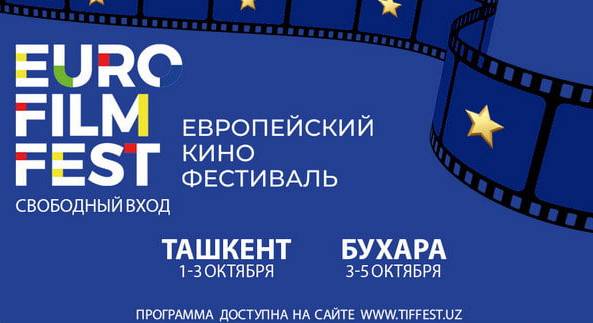 The festival lineup includes 15 films from Austria, Belgium, Croatia, Estonia, Finland, France, Germany, Hungary, Italy, Malta, Portugal, Romania, Slovenia, Spain, and Ukraine. The films will be screened in their original languages with Uzbek or Russian subtitles.
In Tashkent, screenings will run from October 1 to 3 at the "Yulduz" cinema (formerly Premier Hall), while in Bukhara, they will be held from October 3 to 5 at the "Bukhara" cinema.
Among the featured films are:
- "My Quiet Thoughts" (Ukraine, 2019), acclaimed for its unique storyline and direction, with awards from various film festivals.
- "Luzzu" (Malta, 2021), recognized by critics and awarded at the Sundance Film Festival, including a special jury prize for acting.
- "Sanremo" (Slovenia, Italy, 2020), highly praised for its emotional depth and storytelling.
- "Dilili in Paris" (France, 2018), an animated film by Michel Ocelot, acclaimed for its animation and narrative.
- "Bedtime Stories" (France, 2011), described as a "visually stunning animated film," acknowledged at animation festivals.
- "Marry Me" (Belgium, 2014), highly regarded by international film festival juries.
These films cover a wide range of genres, from comedy and drama to animation and documentary. They explore themes such as environmental disasters, aging and loneliness, complex parent-child relationships, separation from parents, cultural differences, societal pressures, and the darker aspects of the human psyche, as stated in the announcement.
According to Gazeta.uz, the full catalog of films and the program are available on the official website of the Tashkent Film Festival. Admission is free on a first-come, first-served basis, and no prior registration is required.
"The European Film Festival is a highly anticipated event for cinema enthusiasts, bringing together cultures and expanding horizons. The 2023 festival program includes acclaimed European films that delve into a wide spectrum of global and European social issues, all of which are relevant to Uzbekistan. Over the past few years, the festival has reached seven regions of Uzbekistan, captivating 20,000 viewers with 90 films from 20 European countries," noted Charlotte Adrian, the Ambassador of the European Union to Uzbekistan.
Follow Daryo's official Instagram and Twitter pages to keep up to date on world news.