Five residents of the IT Park recently participated in the TechCrunch Disrupt international conference, showcasing their startups at the Silkroad Innovation Hub pavilion. The exhibition featured 14 projects from various countries, including Uzbekistan, Kazakhstan, Kyrgyzstan, Tajikistan, Azerbaijan, and Mongolia.
Among the IT Park ecosystem startups were IMAN Invest, a fintech startup, the Mohirdev programming course creator, and the Workly cloud system. MyID and Pastoral Digital Livestock System were also present at the Uzbek stand. Visitors had the opportunity to learn about the region's venture capital, BPO, and IT-outsourcing development and expressed growing interest in the IT Park ecosystem, attracting both local and international investors.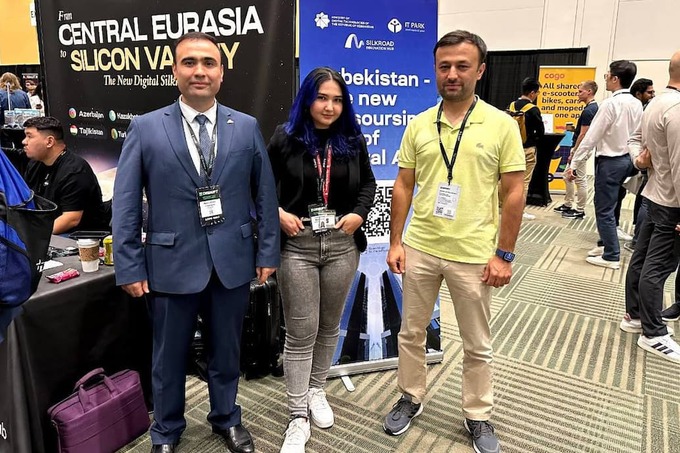 Besides, IT Park Executive Director Abdulahad Kuchkarov spoke at a panel session on the "Silk Road in the Digital Age" theme, presenting Uzbekistan's potential as an IT hub and new programs for foreign investors.
Kuchkarov also shared plans to increase IT service exports to the US market to $3bn, representing 60% of the previously announced target of $5bn by 2030.
The Uzbekistan delegation also met with representatives from the Softeq Ventures venture capital fund to discuss investment opportunities in the technological sphere, agreeing to cooperate and share knowledge to sustain its growth.
The IT sector of Uzbekistan has been growing rapidly in recent years. The government has been actively promoting the development of the IT industry and has implemented various measures to support it. One of the key initiatives is the establishment of the "Digital Uzbekistan" program, which aims to digitize various sectors of the economy and society.
The IT industry in Uzbekistan is mainly focused on software development, outsourcing, and IT services. The country has a large pool of talented IT professionals, with many universities offering degrees in computer science and related fields. The government has also established several technology parks and innovation centers to support the development of startups and tech companies.
Follow Daryo's official Instagram and Twitter pages to keep current on world news.