If you're planning a trip to Uzbekistan in the near future, then you're probably wondering about the myriad of things to do and places to see in this underrated Central Asian hub. You'll encounter an enchanting blend of experiences spanning different eras, courtesy of its rich historical legacy, stunning landscapes, and vibrant cultural offerings. Uzbekistan beckons you to explore a plethora of highly-rated activities and destinations, from the historic Silk Road cities to the diverse natural wonders that adorn its scenery.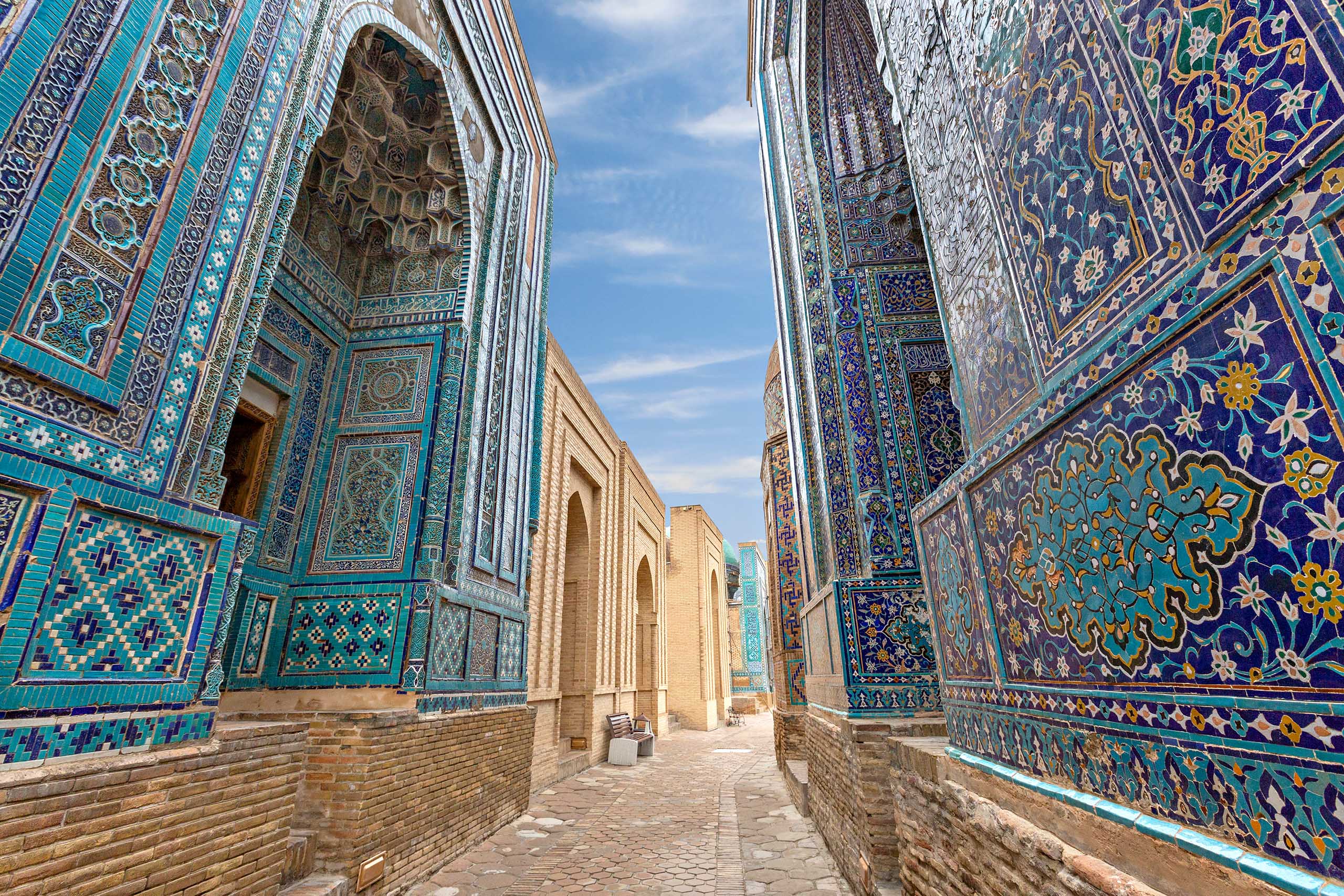 Whether you're an avid history buff, a lover of art and architecture, or simply seeking adventure in uncharted territory, this blog is your ultimate guide to discovering top-rated experiences that await you in Uzbekistan. Get ready to embark on an unforgettable adventure through the heart of Central Asia as we delve into the finest experiences Uzbekistan has to offer. So, grab your travel journal, pack your bags, and let's begin this remarkable journey.
Top 10 Places To Visit In Uzbekistan
To find the best places to visit in Uzbekistan, we included all tourist attractions provided by TourCentralAsia such as historical and religious sites, landmarks, bazaars, museums, parks, and more. Here are the highest-rated tourist attractions according to our study: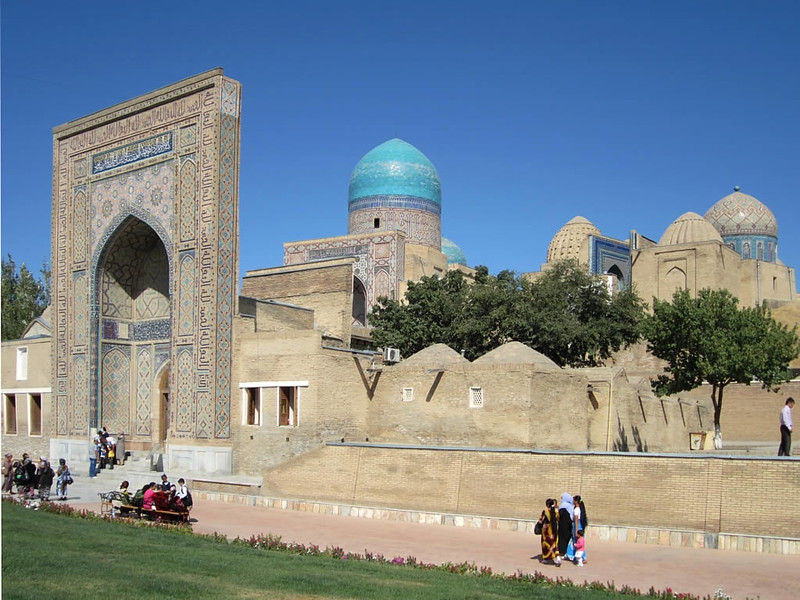 1. Shah-i-Zinda, Samarkand
Shah-i-Zinda, located in Samarkand, Uzbekistan, is an enchanting necropolis that exhibits the rich historical and architectural beauty of the city. This hallowed destination consists of a series of exquisitely decorated mausoleums and burial sites adorned with vibrant mosaics and intricate tile patterns. It serves as a revered pilgrimage site, thought to be the final resting place of Qusam ibn Abbas, a cousin of Prophet Muhammad.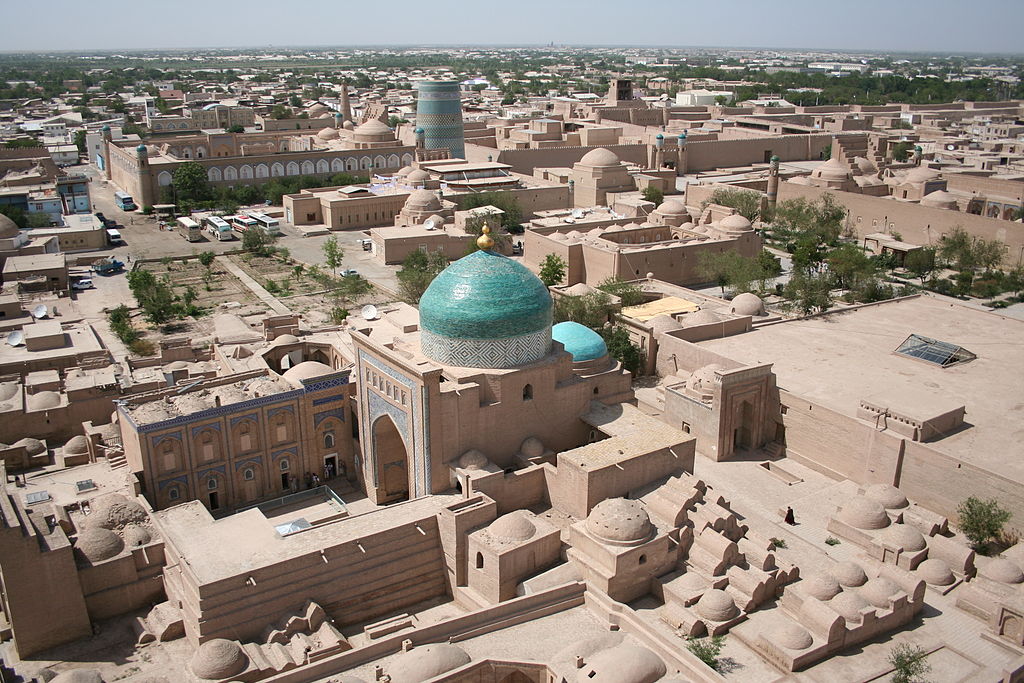 2. Itchan Kala, Khiva
Itchan Kala, situated in Khiva, Uzbekistan, is a captivating ancient walled city that transports tourists into a dynamic historical museum. Surrounded by imposing fortress walls reaching heights of up to 10 meters, this UNESCO World Heritage site conserves the spirit of a Silk Road trading hub. Within its confines, you will encounter impeccably maintained architectural marvels such as mosques, madrasahs, palaces, and markets, all adorned with detailed tilework and masterful craftsmanship. Strolling through its narrow, meandering streets evokes a sensation of time travel, providing a glimpse into the rich cultural legacy of Khiva.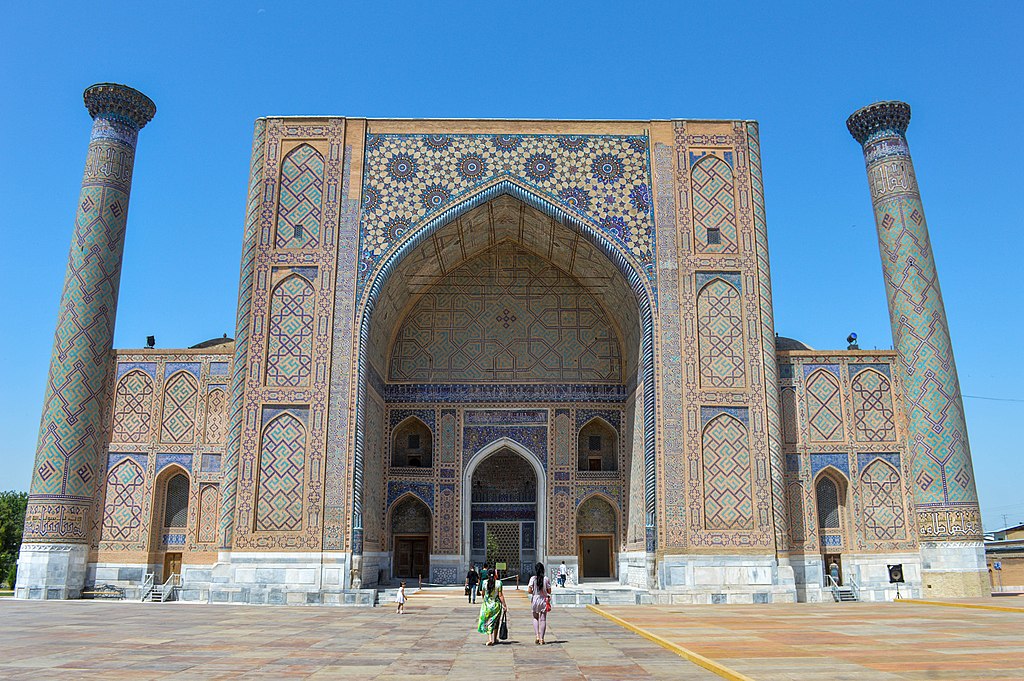 3. Ulugh Beg Madrasa, Samarkand
Built by Ulugh Beg, a renowned astronomer and ruler in the 15th century, this madrasa stands as a striking embodiment of Islamic erudition and architectural brilliance. Its frontage exhibits intricate blue tile ornamentation and an impressive entrance gateway. Inside, Ulugh Beg Madrasa formerly functioned as a center of learning, fostering the quest for knowledge. Today, this magnificent establishment still captivates tourists with its magnificent design, providing a glimpse into the intellectual and artistic achievements of Samarkand's distant past.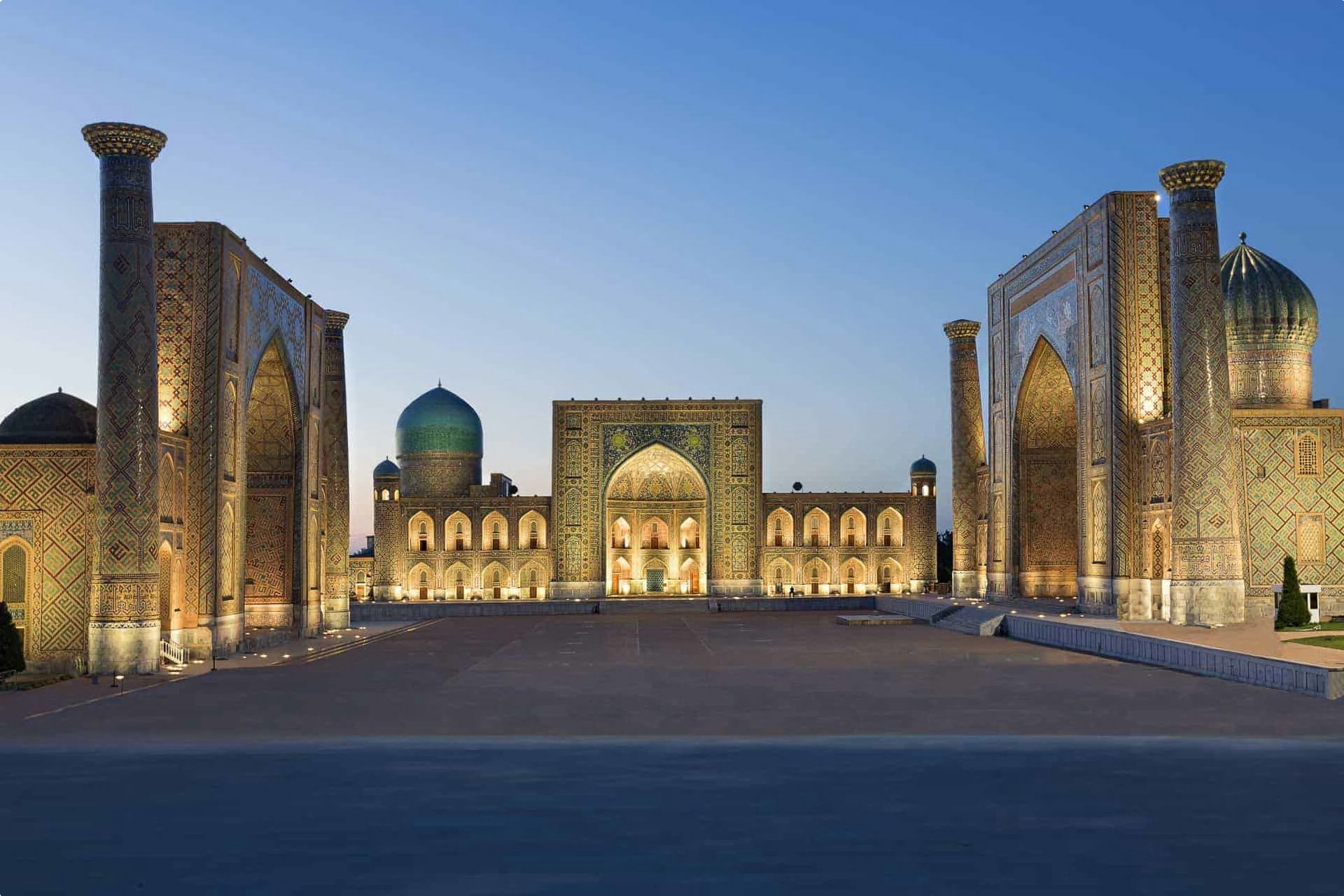 4. Registan Square, Samarkand
The Registan Square, situated in Samarkand, Uzbekistan, stands as a remarkable example of architecture that reflects the city's profound historical legacy and magnificence. This square includes three magnificent madrasahs: Ulugh Beg, Sher-Dor, and Tilya-Kori, and has been designated as a UNESCO World Heritage site, highlighting its importance in showcasing Islamic art and culture. Decorated with elaborate tile designs, majestic archways, and vibrant azure domes, it represents a captivating icon of Samarkand's former splendor. Even today, it continues to mesmerize visitors with its timeless elegance and historical significance.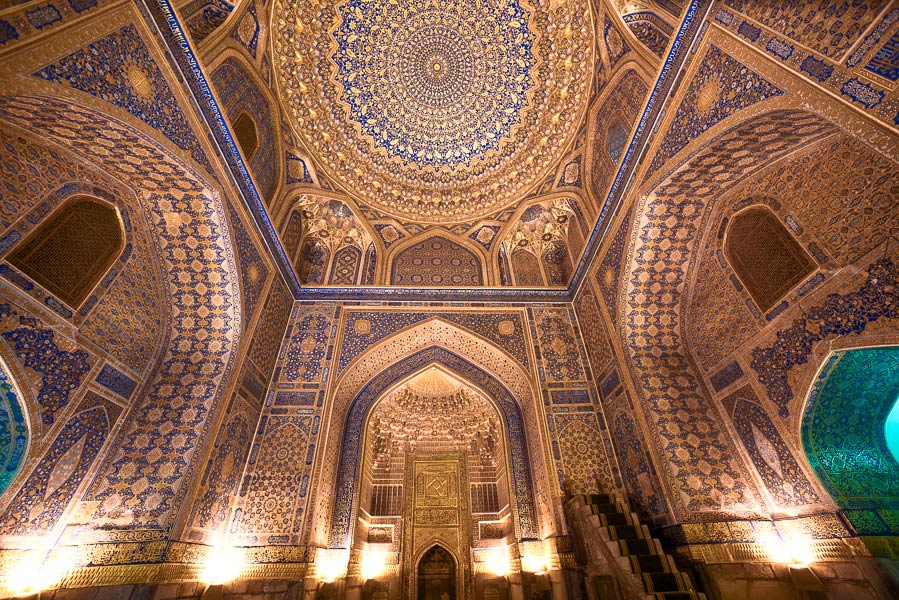 5. Tillya Kori Madrasah, Samarkand
Tillya Kori Madrasah, situated at the core of Samarkand, Uzbekistan, stands as an architectural wonder that reverberates with the deep historical importance of this city. Erected in the 17th century, this madrasah boasts a splendid front adorned with glistening golden decorations and a grand entrance. Inside its revered walls, Tillya Kori Madrasah once functioned as an educational institution, nurturing the pursuit of knowledge. Even today, it captivates visitors with its lavish architecture, offering a window into the intellectual and artistic accomplishments of Samarkand's rich history.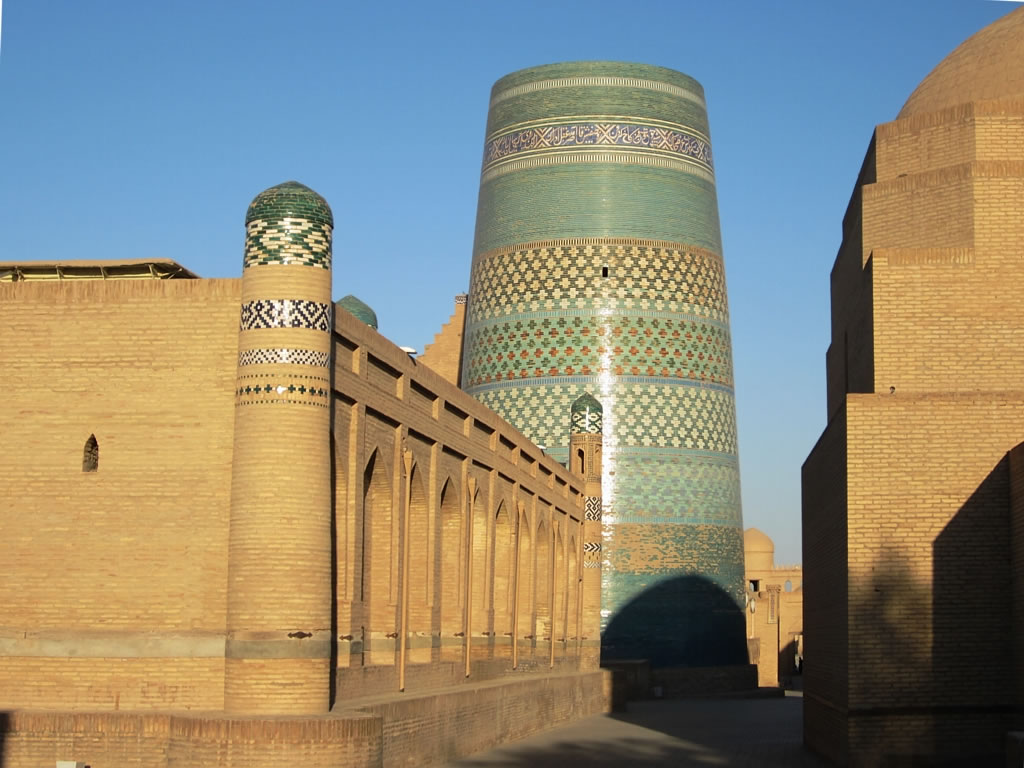 6. Kalta Minor Minaret, Khiva
The Kalta Minor Minaret, located within the captivating city of Khiva, stands as a unique architectural marvel that resonates with the deep historical fabric of this ancient metropolis. This exceptional minaret was commissioned by the Mughal noble Muhammad Amin Khan and reaches an impressive height of 26 meters. Originally intended to reach a towering 70 meters, its construction was unfortunately halted following Khan's passing in 1855. Nonetheless, its towering structure gracefully dominates the cityscape, serving as a tribute to the architectural mastery of its era. Enclosed within its historic walls, the Kalta Minor Minaret narrates a compelling tale of Khiva's bygone eras, captivating visitors with its distinctive design and offering a glimpse into the city's rich cultural heritage.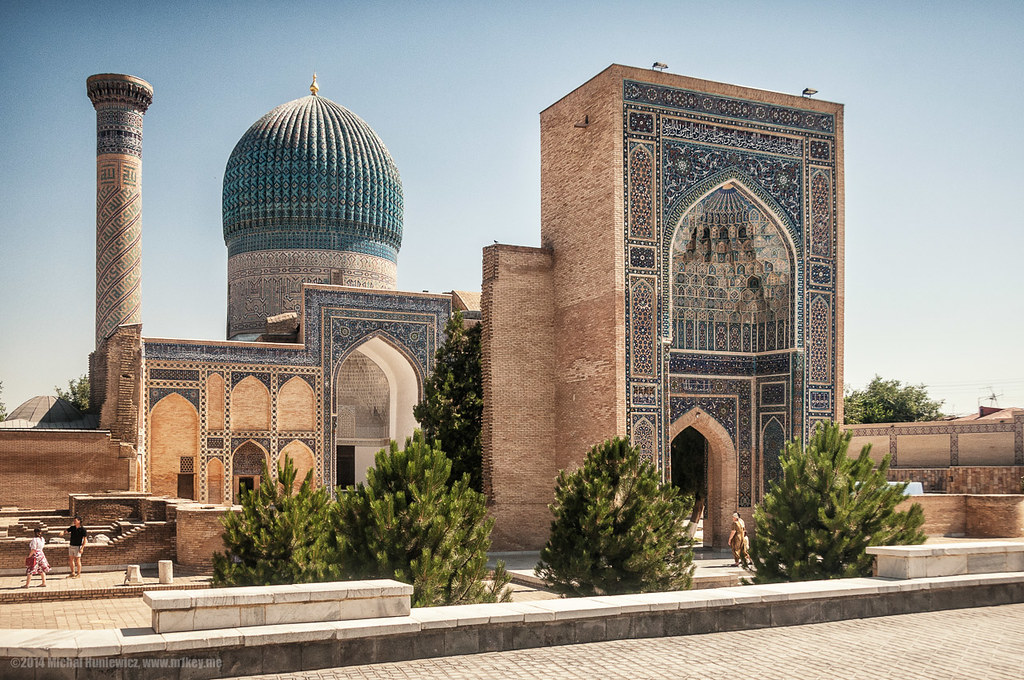 7. Gur Emir Mausoleum, Samarkand
Gur Emir Mausoleum stands as a testament to the city's glorious past, having been erected during a significant period of Samarkand's prominence. Its unique domed design showcases the creative brilliance of that era. Initially intended as the final resting place for Muhammad Shah, the grandson of the renowned conqueror Timur (Tamerlane), it later also became the burial site for Timur himself following his demise in 1405.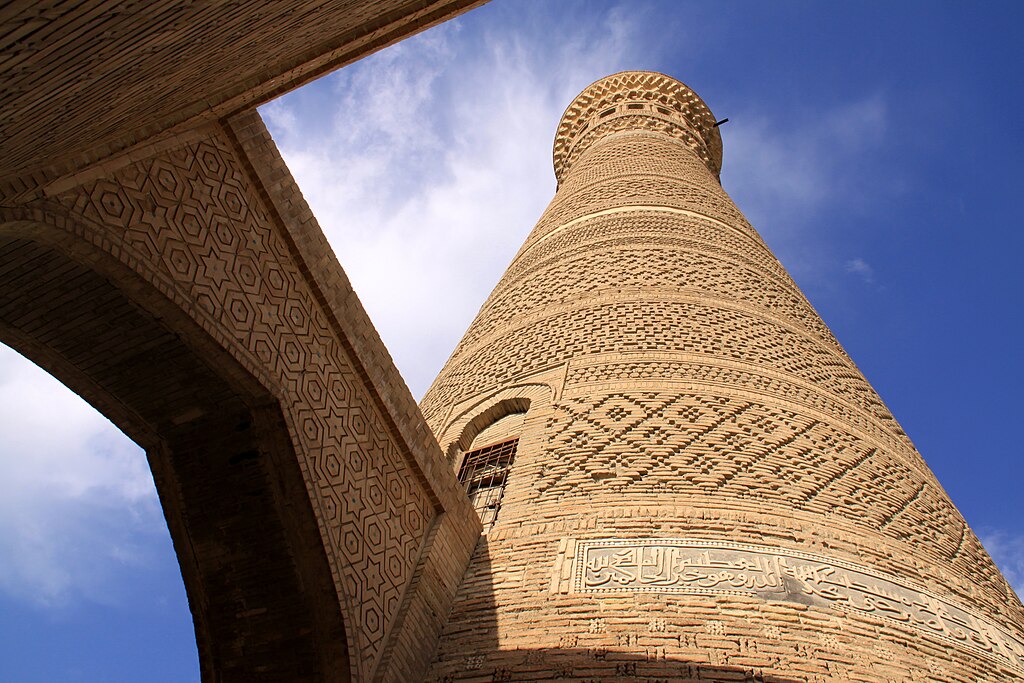 8. Great Minaret of the Kalon, Bukhara
The Great Minaret of the Kalon in Bukhara stands as an extraordinary historical monument with origins tracing back to the 12th century. Soaring to an impressive height of 47 meters, this minaret was erected during the rule of Arslan Khan and held a purpose that transcended mere architectural magnificence. Beyond its aesthetic appeal, this minaret played a crucial role as a guiding light for Silk Road voyagers, leading them through the vast desert expanses and underscoring Bukhara's importance as a bustling trade crossroads. Its distinctive brickwork, adorned with intricate geometric designs, serves as a testament to the architectural brilliance of its era, attracting history enthusiasts and inquisitive travelers alike to delve into its rich historical narrative.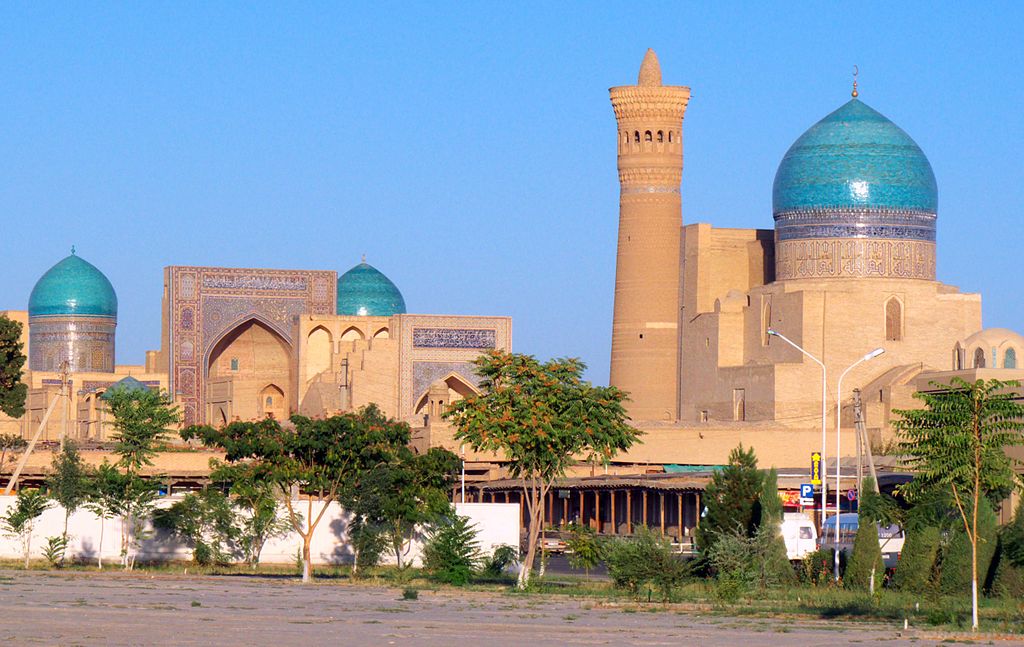 9. Poi Kalyan Mosque, Bukhara
The Poi Kalyan Mosque in Bukhara, Uzbekistan, stands as a remarkable architectural gem rich in historical significance. Originating from the 12th century, this mosque was built under the rule of Arslan Khan and has gracefully endured the passage of time. The mosque's magnificence is exemplified by its expansive courtyard and captivating turquoise domes, while its profound spiritual importance has attracted worshippers for generations. Beyond being merely a place of worship, it serves as a living embodiment of Bukhara's resilient cultural legacy.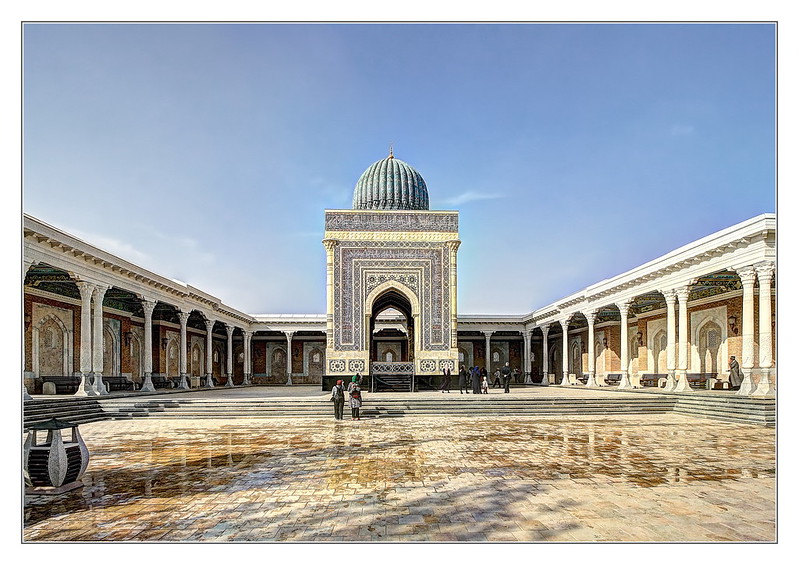 10. Imam Bokhari Mausoleum, Samarkand
The Imam Bukhari Mausoleum, which embellishes the scenery of Samarkand, serves not only as a burial site but as a masterpiece. Its elaborate tiling, geometric patterns, and peaceful garden surroundings combine to establish an atmosphere of tranquility and magnificence. Erected in tribute to Imam Bukhari, a distinguished Islamic scholar, this memorial encapsulates the core of Samarkand's artistic and spiritual legacy. Guests are offered a captivating display of Islamic architectural excellence, where each element narrates a tale of respect and adoration. It's important to note that the mausoleum is presently closed for restoration work.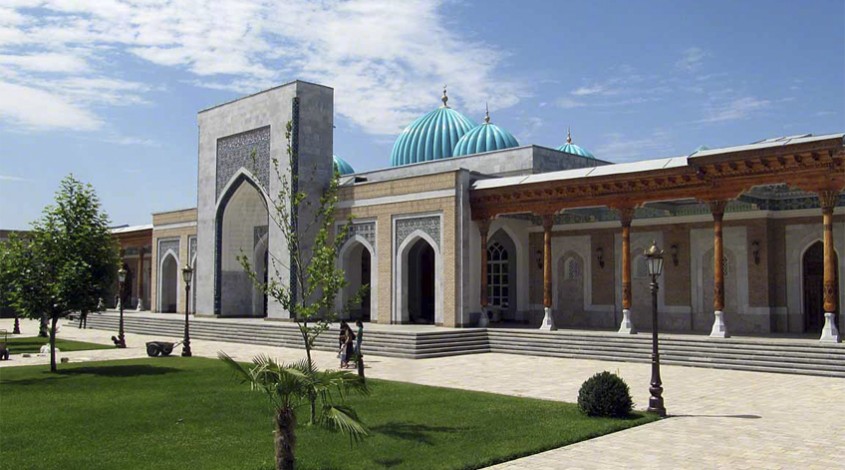 The study conducted by TourCentralAsia, based on thousands of TripAdvisor reviews, has unveiled the top-rated attractions in Uzbekistan, allowing anyone to plan their journey with confidence. Whether you're interested in religious and historic sites, museums, landmarks, or places of natural beauty, Uzbekistan has something to offer everyone in 2023. Explore this Silk Road treasure trove and immerse yourself in its captivating history and culture.
Tourist Attraction Statistics
In order to compile the list, the study meticulously analyzed hundreds of activities on TripAdvisor and collated 23,934 reviews to rank the best things to do in Uzbekistan. We categorized these attractions into various groups, including Religious or Historic Sites, Museum or Theater, Landmark, Place of Natural Beauty, Bazaar or Shopping, Park, Neighborhood, and Spa and Wellness.
To ensure the reliability of our rankings, we only considered attractions with at least 50 ratings. This method allowed us to provide you with the very best list of things to do in Uzbekistan.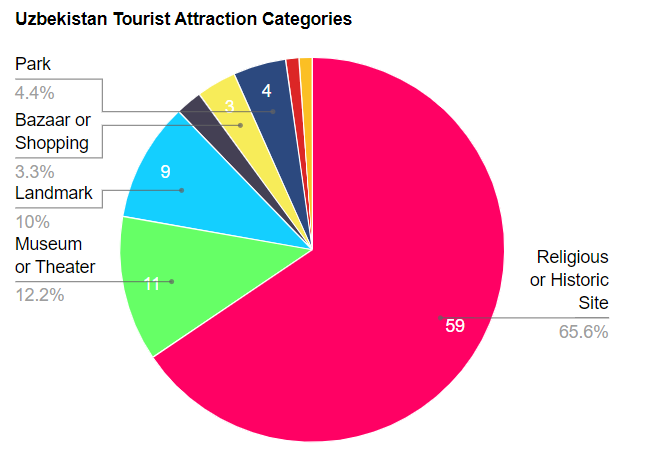 Results
Unsurprisingly, the majority of the attractions on our list fall under the category of Religious or Historic Sites. Uzbekistan's rich cultural heritage and long history make it a haven for those interested in exploring its historical and spiritual facets.
Only two bazaars, Chorsu and Siab, made it onto the list, emphasizing the uniqueness of these marketplaces as cultural experiences for travelers. In terms of landmarks, Muynaq's ship cemetery emerged as the most popular, followed closely by Tashkent's metro and the Monument of Courage Memorial.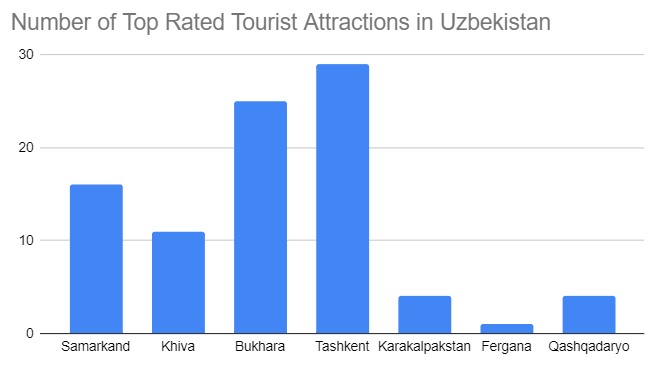 When examining provinces, Tashkent offered the most attractions, with 29 out of the 90 on our list, followed closely by Bukhara with 25. However, Samarkand dominated the top ten with five out of the country's best places to visit.
Top Rated Attractions By City
Tashkent: Ilkhom Theater, with an average rating of 4.68.

Samarkand: Shah-i-Zinda, boasts an impressive average rating of 4.85.

Bukhara: Great Minaret of the Kalon, highly rated at 4.73.

Khiva: Itchan Kala, with a remarkable average rating of 4.81.

Karakalpakstan: Ships Cemetery, rated at 4.51.

Qashqadaryo: The Palace Complex of Ak-Saray, averaging 4.01.
Uzbekistan abounds with historical and cultural marvels, ripe for exploration and discovery. From the captivating Shah-i-Zinda necropolis in Samarkand to the vibrant living museum of Itchan Kala in Khiva, and from the magnificent Ulugh Beg and Tillya Kori madrasahs in Samarkand to the imposing Kalta Minor minarets in Khiva, Uzbekistan provides a wide array of experiences that are sure to inspire wonder and amazement.
Follow Daryo's official Instagram and Twitter pages to keep current on world news.