Kazakhstanis can soon have visa-free access to Vietnam after an agreement was reached on August 21 during Kassym-Jomart Tokayev's official visit.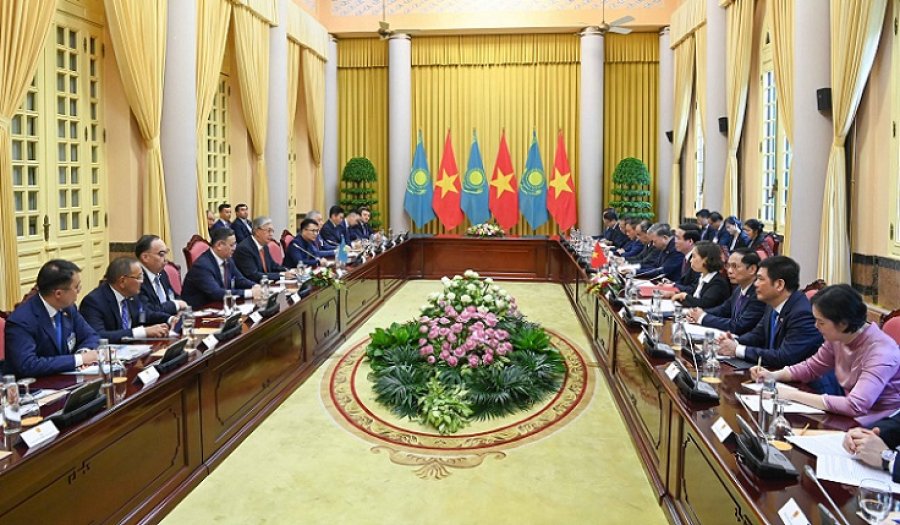 The day started with a political agenda as Tokayev laid flowers at the monument to national heroes who fought and died for freedom and independence. He also laid flowers at the mausoleum of Ho Chi Minh on the same square.
The presidents of Kazakhstan and Vietnam then went to the residence to begin negotiations, where Tokayev noted that this visit was of great importance due to Vietnam's economic success. He congratulated all Vietnamese on the upcoming Independence Day celebration and invited President Vo Van Thuong to visit Astana next summer.
Kassym-Jomart Tokayev expressed his utmost importance on his first visit to Vietnam. He noted Kazakhstan's great respect for Vietnam and its people and saw Vietnam's economic success as a profound basis for further cooperation between the two states.
'Kazakhstan pays great attention to the economic and political interaction between the two countries, and properly assesses Vietnam's huge economic potential and the country's authority in the international arena',
the President said.
The President of Vietnam, Vo Van Thuong, expressed gratitude towards Kazakhstan for their valuable support during the struggle for national liberation and reunification.
'I am sure that your first official visit to our country will create a new incentive to activate traditionally friendly relations and successful multifaceted cooperation between the two countries. I visited Kazakhstan and was impressed by the magnificent, beautiful country, hospitable people. Vietnam attentively follows the development of Kazakhstan and the great successes that the Kazakh people have achieved under your leadership. Thanks to your experience and strategic vision, I am sure that Kazakhstan will develop safely and steadily, contributing to the development and preservation of stability in the region and the world',
the President noted.
Trade between countries exceeded $500mn last year and is expected to reach $1bn by year-end, according to Kassym-Jomart Tokayev.
Serik Zhumangarin, Deputy Prime Minister and Minister of Trade and Integration of the Republic of Kazakhstan stated that while the country supplies raw lead, it also has suggestions for other environmentally friendly products and is improving delivery routes.
Today's meeting also focused on a visa-free agreement between Kazakhstan and Vietnam.
This means that Kazakhstanis can now visit Vietnam without a visa, making travel easier for tourists and supporting business people on both sides.
In the past year, over 26,000 residents of Kazakhstan and 6mn tourists from around the world visited Vietnam.
Four flights are operating between Kazakhstan and Vietnam, with plans to increase to seven.
Askhat Oralov, the Minister of Culture and Sports of the Republic of Kazakhstan and the Minister of Culture, Sports and Tourism of the State of Vietnam, reviewed the memorandum for mutual tourism development.
Last year, over 1,000 Vietnamese citizens visited Kazakhstan due to their admiration for our natural wonders such as mountains, lakes, and the Caspian Sea.
In total, 12 important cooperation documents were signed during the visit, which included a memorandum of understanding between Agency Khabar and Vietnam Television.
The President also met with Vietnamese business people, including the Chairman of the Board of Sovico Group, Nguyen Thanh Hung, and the Chairman of the Board of Directors of PetroVietnam, Hoang Quoc Vong. Tokayev informed them that Kazakhstan is interested in implementing major joint investment projects and providing tax and customs preferences for investors interested in oil and gas refining and geological exploration projects.
Magzum Mirzagaliyev, Chairman of KazMunayGas Management Board, identified 16 sites across Aktobe, West Kazakhstan, and Mangistau regions for geological exploration in Kazakhstan.
Earlier, Daryo reported that the governments of Kazakhstan and Seychelles plan to establish a visa-free regime. The draft agreement exempts citizens from visa requirements and is open for discussion until August 28.
Besides, Kazakhstan plans to establish a visa-free regime with San Marino. Under the proposed agreement, Kazakhstanis can stay in San Marino for 90 days without a visa every 180 days from the date of first entry.
Previously, the governments of Kazakhstan and China have approved a visa-free agreement, allowing citizens from both nations to visit each other for up to 30 days.
In addition, Kazakhstan's Foreign Ministry has drafted a resolution proposing an agreement with Bangladesh to exempt diplomatic and official passport holders from visa requirements.
Follow Daryo's official Instagram and Threads pages to keep up to date on world news.